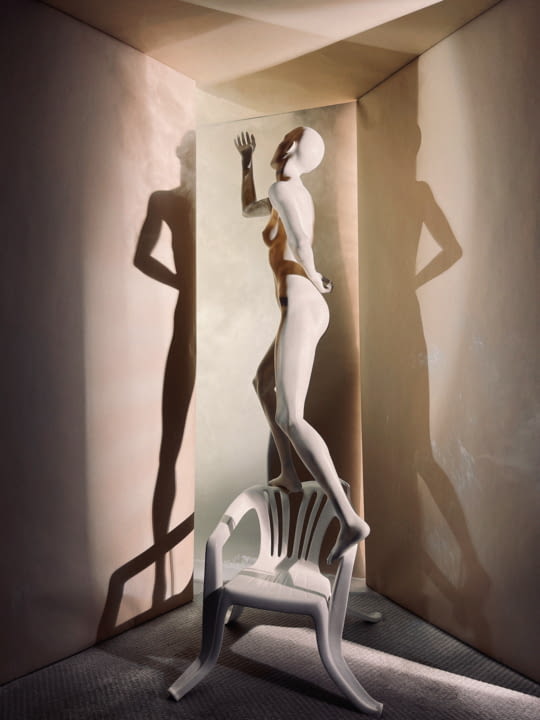 Collaboration / Culture / Fashion house - 9/29/21
Givenchy is pleased to announce Creative Director Matthew M. Williams' collection for Fall-Winter 2021 is launching in selected stores alongside an original collaboration with the acclaimed multimedia artist Ewan Macfarlane.
Echoing the designer's experimentations with classicism and radical contrast, utility and luxury, installations of humanoid sculptures created by Ewan Macfarlane for Givenchy show figures crouching, climbing, reaching or leaning, clad in clothes and accessories from the Fall-Winter 2021 collection. Through their attitudes, these pieces evoke an innate quest for self-expression, meaning, and evolution — human poetic desires that are shaped and conveyed by the objects we choose to make our own.
"I've long admired Ewan's work, and these sculptures really speak to me because my process as a designer is always about finding the humanity in luxury." says Matthew M. Williams. "I'm always looking at the reality of the person who will bring the clothing to life: it should feel powerful and effortless, equal and joyful. What someone wears should always portray who they are inside. I feel like the beauty of Ewan's work help me convey that in a powerful & poetic way"
"It's an honor to have been invited by Matthew M. Williams and com,issioned by Givenchy to work on this project," said Ewan Macfarlane. "Whether hanging, reaching, or contorting, these compositions represent an ongoing conversation about contemplation and self-discovery [...], what is perennial and what is seasonal. It's a meditation on form, craft, opulence and celebrating life."
Various modes of display — pedestals, chairs, ladders, or metal tension poles polished to a high shine — and disassociated limbs present Givenchy looks and accessories for men and women at various sightlines, expanding the vertical horizon and sparking a dialogue between the Fall-Winter 2021 collection, the space it inhabits, and the viewer.
The Givenchy Fall-Winter 2021 collection by Matthew M. Williams is in selected retail environments featuring sculptures by Ewan Macfarlane.
---