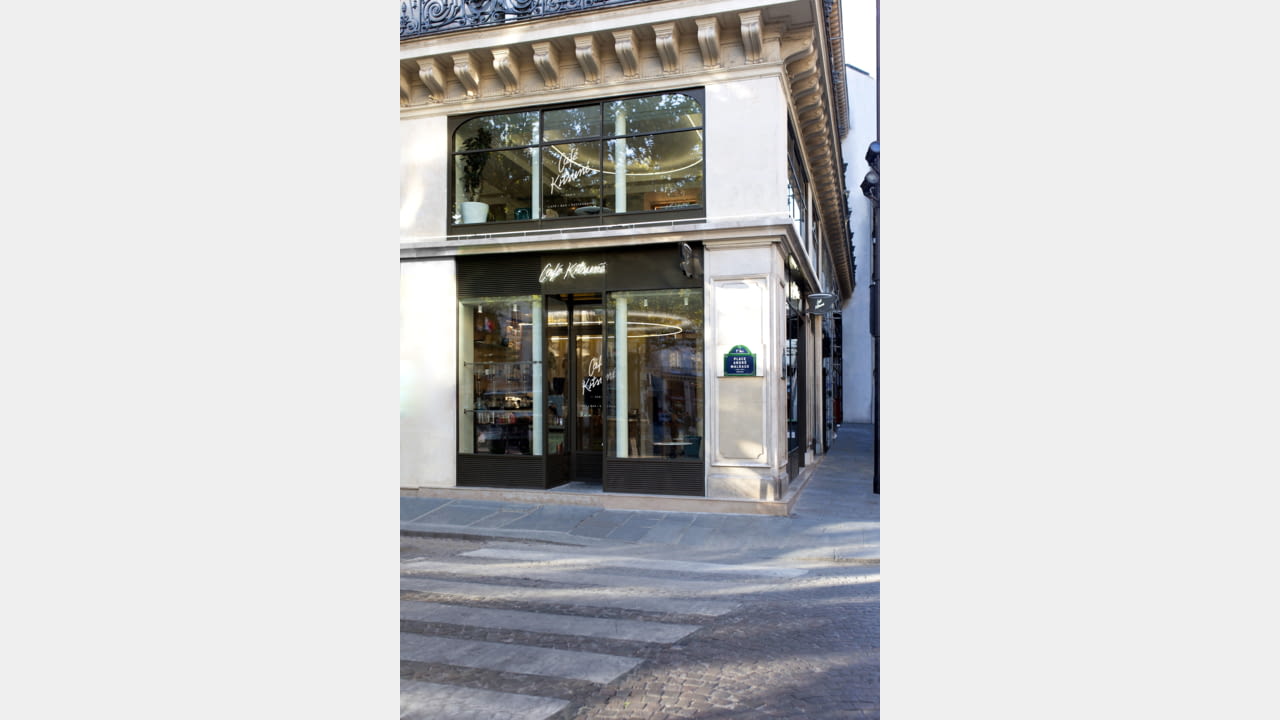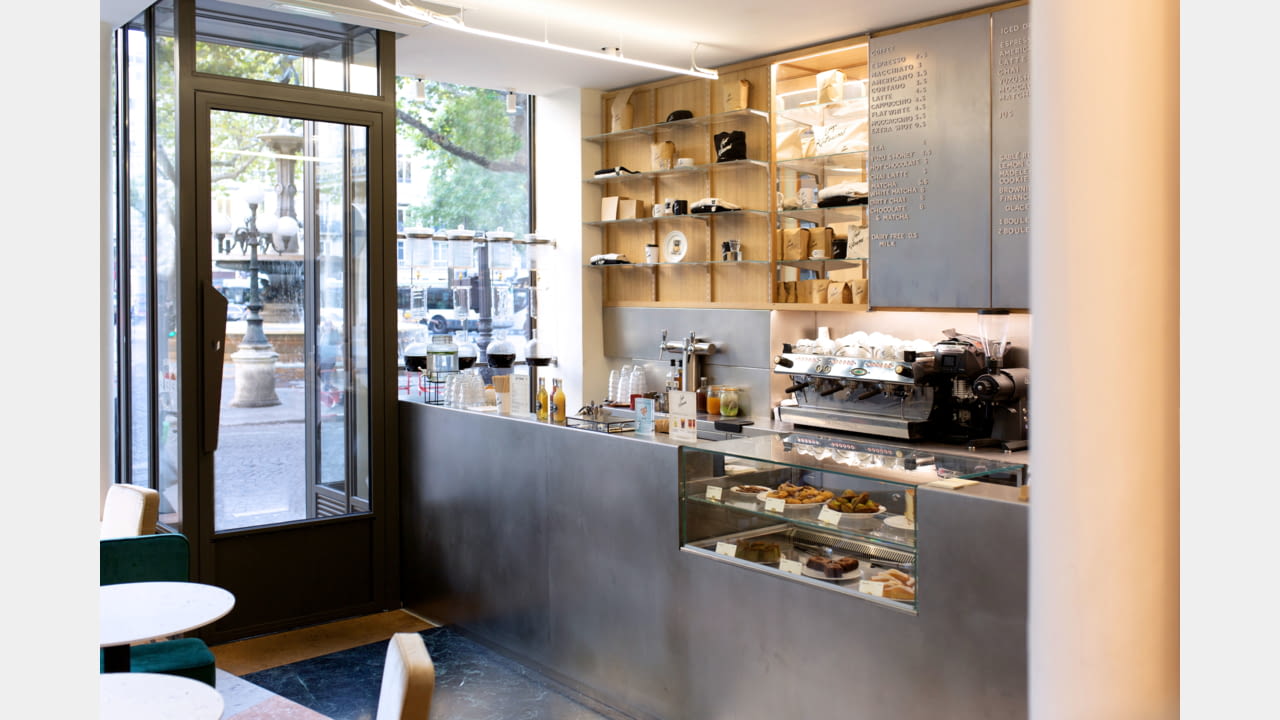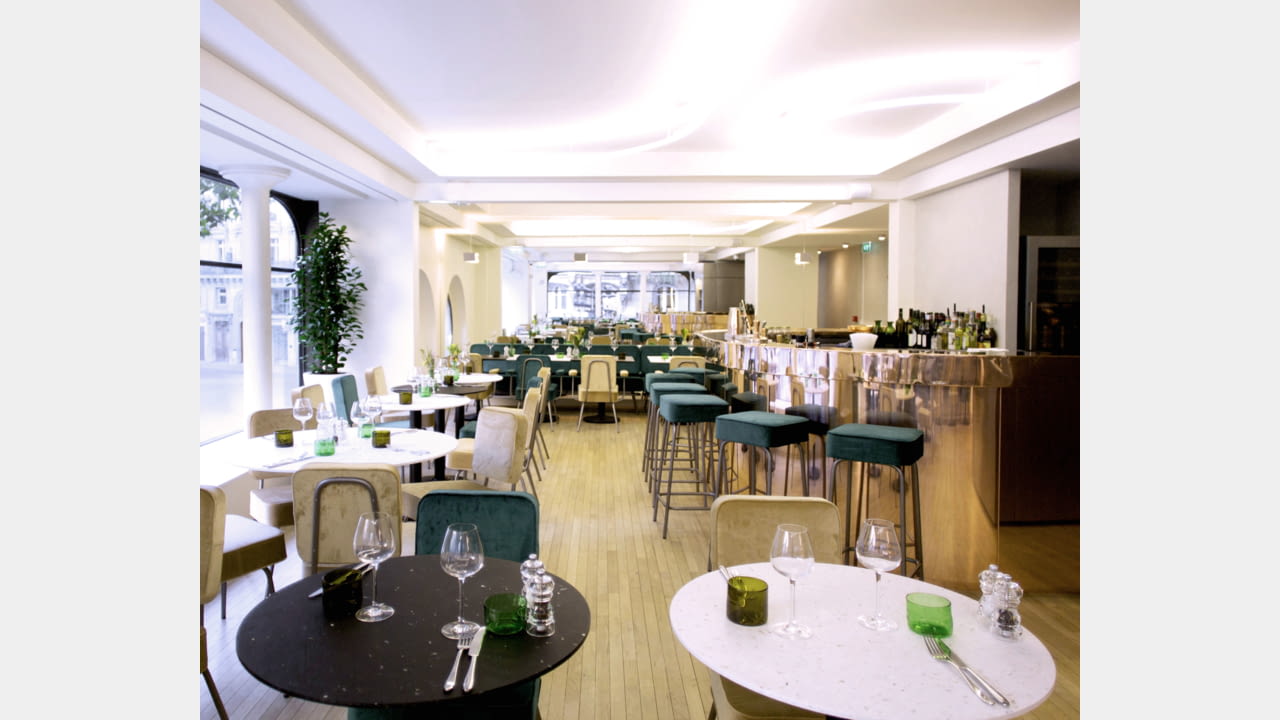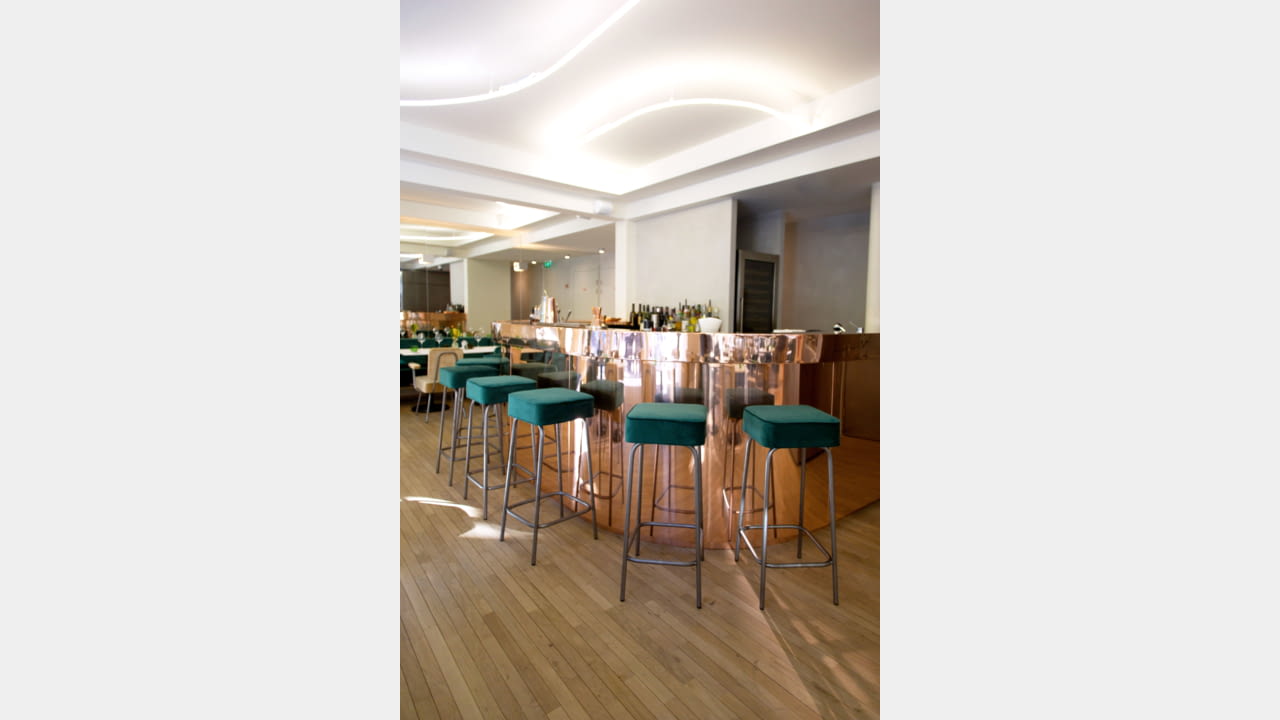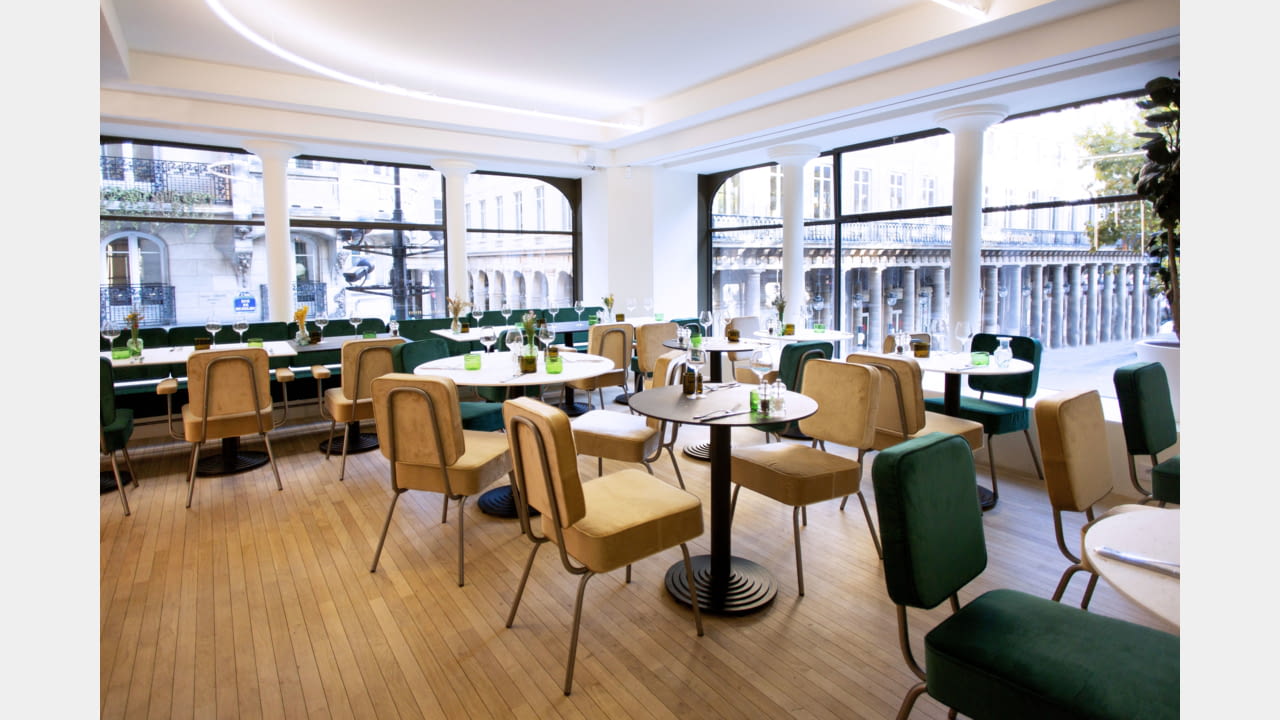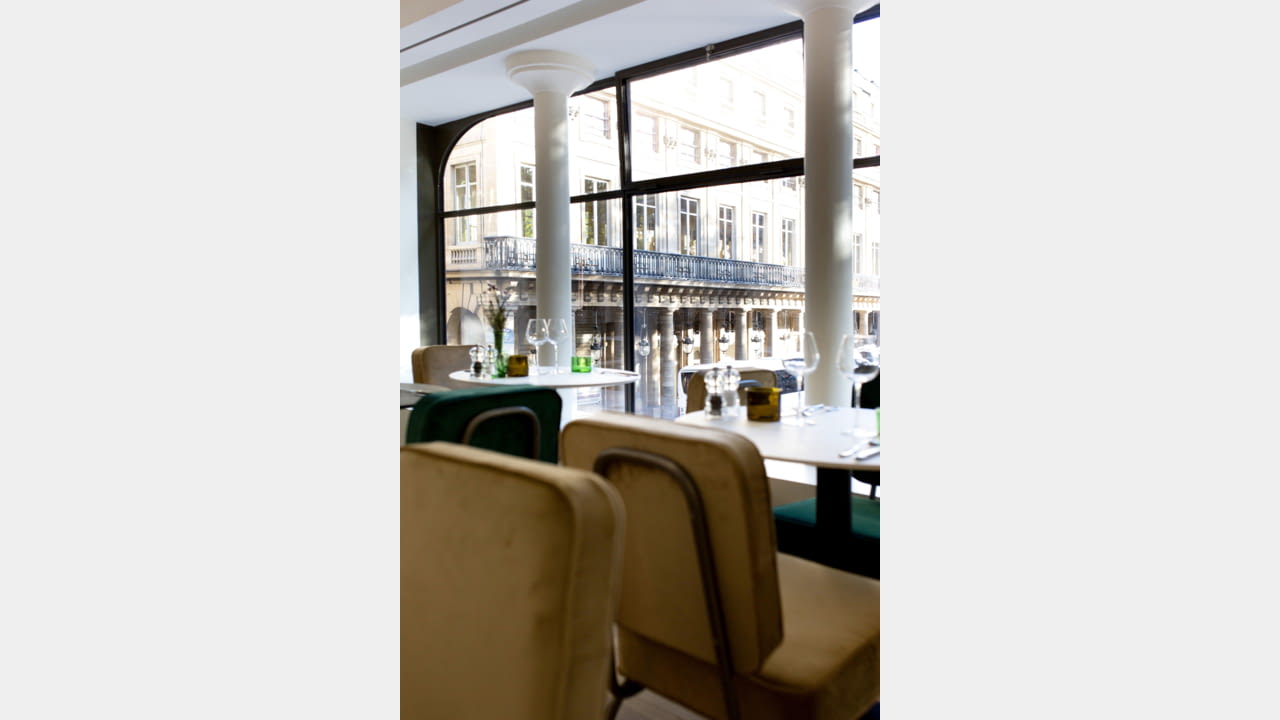 Events / Fashion house -
Six years after its creation, Café Kitsuné now has its first café-bar-restaurant, just steps from the Palais Royal gardens, the Comédie-Française theatre and the Louvre museum. Open all day, every day, from 8:30am to midnight, Café Kitsuné Louvre is a modernist
reinterpretation of the classic Parisian bistro. Designed by the architecture & design practice Ciguë as a truly hospitality-first destination, the space welcomes visitors of all ages throughout the day.
The ground floor, bathed in light from the floor-to-ceiling windows, features neon lights, a stainless-steel counter and a patchwork of colorful marbles. An oak staircase leads upstairs, where round tables, velvet banquettes, XXL mirrors and a zinc bar create a more intimate ambiance.
Beginning at 8:30am each day, you can enjoy a full-bodied and flavoursome coffee, carefully prepared by a team of passionate baristas, using beans cultivated in Costa Rica and roasted in France. Perfect as an espresso, cappuccino, cortado or latte, as well as a drop-by-
drop cold-brew, rich-bodied nitro, or more subtly as a lemonade made with cascara, the coffee cherry pulp.
For breakfast, highlights include a choice of gourmet pâtisseries, home-made granola and Greek yoghurt, Japanese pancakes known as Dorayaki and eggs Benedict Portobello.
Conceived by chef Yuji Tani and executed locally by chef Chihiro Yamazaki, the menu expands at lunchtime into a series of internationally-influenced dishes to share. This simple, creative and comforting cuisine revisits French bistro classics and American diner must-haves, with a unique Japanese touch.
Be tempted by the croque-monsieur with tuna with lemongrass and ginger and the house béchamel, in-between two slices of toasted farmhouse bread. The signature burger is styled as a beef teriyaki tartare, garnished with crunchy bacon, a fried egg and comté cheese, while the brandade is all about mackerel. The salmon is snacké and served warm, accompanied by a tofu mousse, avocado purée and a sprinkling of almonds. There is also a plat du jour which adapts according to the season and Chef's mood, as well as a
variety of salads such as the niçoise and the piémontaise, all served with Japanese finesse.
On a sweet note, customers can delight in the mochi, made from seasonal fruit and buckwheat crumble, the fondant au chocolat, pomelos with whipped cream and a carpaccio of fruit served with Thai basilic syrup and Sichuan pepper.
For quick snacks, the menu adds an edamame hummus and wasabi popcorn, for nibbles on the go.
All of this is accompanied by a selection of responsibly grown wines, Japanese whiskeys and sakes, Paris-brewed, organic green tea and yuzu beers, champagne from small producers and the venerable house of Perrier-Jouët.
At 6:00pm, the cocktail bar bursts into life. Barmen carefully concoct bespoke recipes imagined by Alexis Taoufiq, the Meilleur Ouvrier de France mixologist. Conceived as sincere experiences, from home-made infusions and syrups, the Café Kitsuné cocktails are astonishing in their understated, balanced and delicious blends. We love the Kitsuné Cocktail where cognac and sake meet for a refreshing sour, the effervescent Yokosso with its floral notes and mix of jasmine-infused gin and champagne, the surprising Fox Nori that combines the sweetness of elderflower with the iodine effect of vodka infused with the nori leaf, and the Ichijiku Negroni where shōchū, a Japanese eau-de-vie is infused with dried figs.
Finally, there is the Café Kitsuné collection of accessories and tableware, including porcelain from Limoges. A small épicerie sells the coffee beans and home-made granola to take away, a selection of jams by Confiture Parisienne and pots of honey by Miel de Paris.