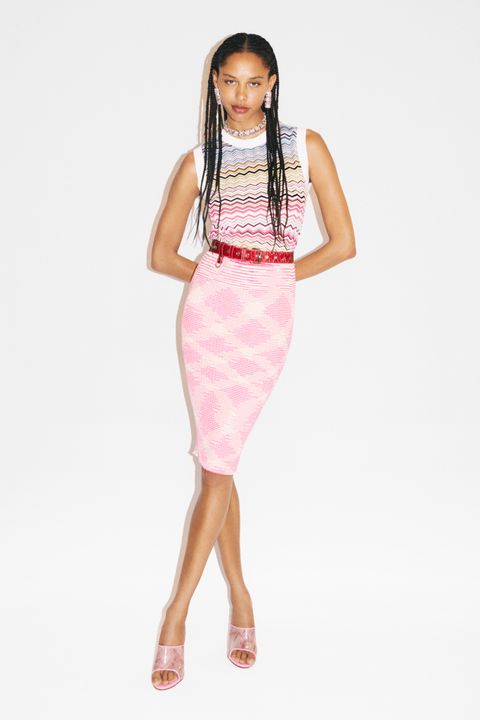 Fashion house / Campaign - 8/19/22
New Missonism.
By looking at the codes, a personal language arises, spoken in the idiom of a new author.

An A B C that crosses the archive to materialize in the present, choosing only the letters that matter, in order to re-signify them.

A for Ageless. A transversal approach, acknowledging that age is only a mindset and clothing can eases such fluid take on the act of dressing.

C for Color. The alphabet of light: yellow, magenta and cyan, the primaries and their endless permutations. White, the sum of all colors, brighing lightness in. Graphic black and white that gives rhythm.

D for Discipline. A new mental order delimits the deregulation of patterns within the perimeter of a body conscious, precise silhouette: to-the-knee, verticalized by high slits, quick, fresh.

E for Everyday. A wardrobe designed to be worn day after day, effortlessly.

F for Fast. The speed and ease that come from spontaneity.

G for Glint. Metallic light that shines, mingling with color. Crystals that draw patterns and refract glimmer.

M for Monochrome. Color that is maximized in a single note; patterns that become texture and give movement to surfaces.

P for Pattern. The founding motifs of Missonism: fiammato, zig zig, stripes, patchwork, and rachel are blown-up, combined, morphed. Cuts and constructions create zig zags. Patchwork is a jacquard. Applied crystals create zigzag-like lines of light. Stripes multiply, shine, shimmer. Contrasting bands contain and define.

R for Roots. Sumirago, where it all began, is the backdrop.

S for Sensuality. The body is constantly felt. It peeps out, shines through, gleams.

T for Timeless. Pieces are conceived as objects that are both timely and timeless.

W for Wardrobe. An essential and extensible system of garments: cardigan, shirt, top, pencil skirt, trousers, slip dress.

Speaking Missoni, today.
---