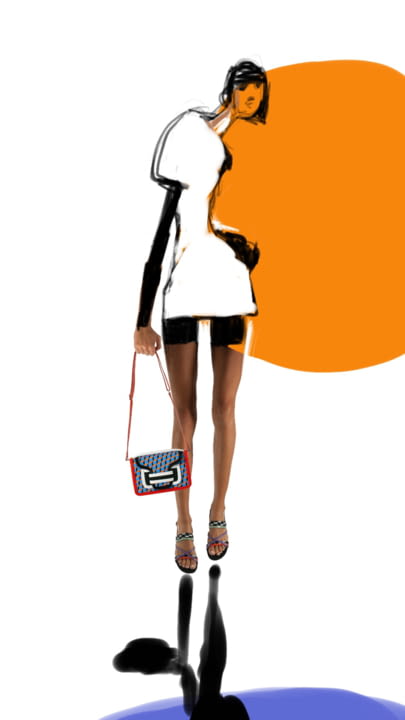 新产品 / 时装品牌 - 2021/10/8
CHIC PLANET
One always remembers what precedes the first step : the vertigo, the excitement, the idea of the world opening up. Pierre Hardy recalls this particular first step very well.
It was already in the midst of the pandemic, when nothing was working as usual. So, he thought of a new approach. Creating a capsule of iconic models crafted as ethically as possible. Rethinking every detail, every step and wondering how to make them eco-responsible. Finding the perfect balance between style, silhouette and sustainability whilst staying true to his designs. Reviving old leather stocks and tapping into them by working only with limited quantities, selecting vegetable-tanned leather if necessary. Considering material that is both recycled and recyclable and choosing a regenerated nylon. Printing it with the iconic Cube Perspective and using it for the pouches instead of cotton.
Selecting chrome and metal-free tanned leather for the lining and a totally recycled material for the soles.
Challenge the system in place and only produce upon order.
Change the paper of the boxes and redesign its logo for the occasion. Two sides of the House's iconic cube embracing a round planet. Like an arrow pointing in the right direction.
So, who follows in his footsteps?

ABOUT PLANET COLLECTION
The sustainable approach was achieved in partnership with the historical suppliers and manufacturers of the brand: upcycling the House's leather stocks, recycling with regenerated nylon and selecting vegetabletanned leather.
All other parts and materials (lining, outsoles, laces, straps...) were chosen as carefully as possible by the studio.
The styles from the Planet collection will only be produced upon order, in limited edition, while material stocks last.
Shoe boxes have been locally crafted in FSC-certified paper and shoe pouches are made from recycled nylon

SUMMER 2022 COLLECTION
The PLANET collection expands to include three bags and six shoe styles, three of which are unisex.
The collection features house iconic styles to better focus on research and development of eco responsible materials and to achieve the highest possible level of sustainability, from 60 to 80% depending on the styles.
Feminine and summery with the CAGE sandal, the MINI OBI mules and the ALPHA barefoot sandal, it is also casual with the BEACH RIDER ergonomic sandals and finally sporty and dynamic with the SLIDER and TREK COMET sneakers.
Two new « Cube perspective » canvases are added to the classic black/white and black/black colors: one cheerful and sunny in the color of the PLANET logo, and the other luminous in shades of white. They are used to dress up the ALPHA and CUBE BOX bags.
---