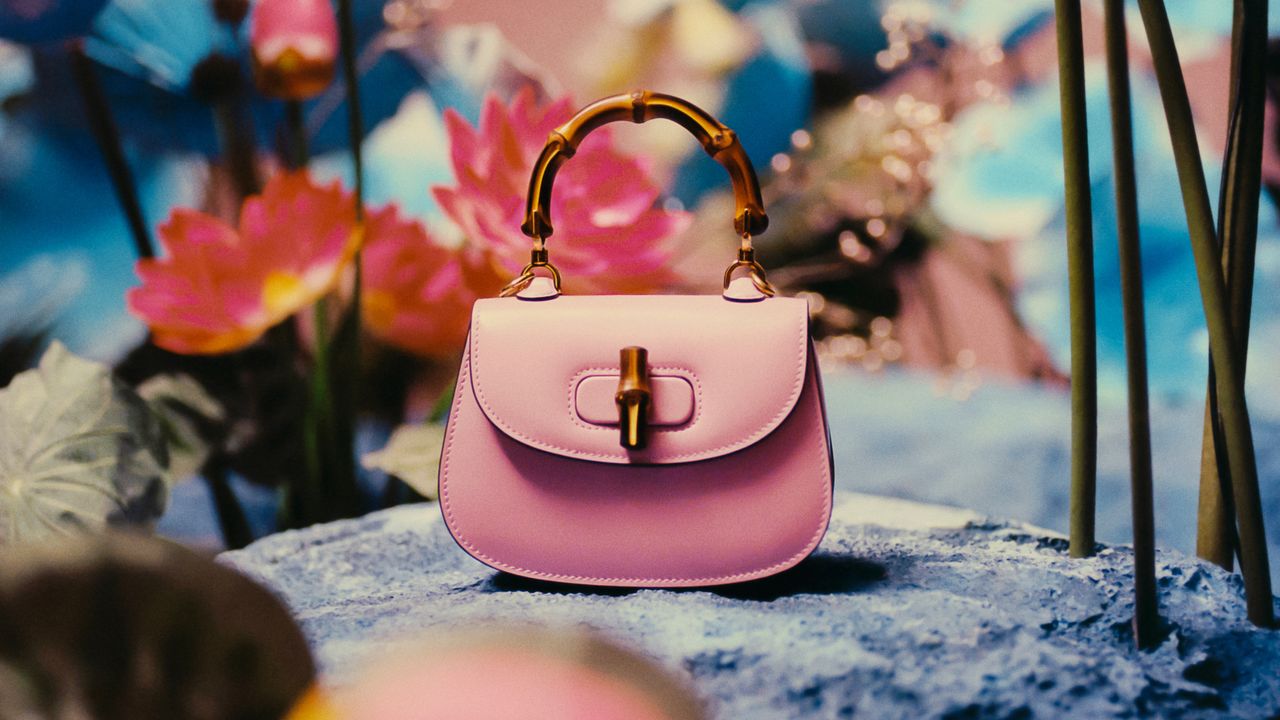 Nuevos productos / Casa - 20/5/22
Alessandro Michele takes inspiration from the historic Bamboo Bag and presents it through a contemporary lens in the new Gucci Bamboo 1947. The renowned design, now part of the signature Gucci Beloved lines, forges a connection between past, present, and future, representing a reiteration of heritage and an iteration of the Creative Director's own legacy within the House.
In 1947 – amidst Italy's post-war era in which traditional raw materials were difficult to come by – the enterprising founder, Guccio Gucci, with the help of the House's visionary Florentine artisans, decided to use the lightweight and durable bamboo for the handle of a purse, thus forging an instant emblem. In the decades to come, the Bamboo Bag became a fixture among Hollywood's leading ladies and the international jet set, consolidating the style's status as an innovative icon around the world.
The current version of bamboo top handle style is distinguished by interchangeable leather and Web straps, casting a contemporary light on the sophisticated silhouette, presented in various sizes and in a palette of vibrant colors.
To celebrate the launch of the new line, the House invited 9 international creators to collaborate on a digital project. Each one was asked to share their personal vision of the Gucci Bamboo 1947 through the creation of an artwork featuring the bamboo handle bag. Through a series of photographs, illustrations, paintings and videos, the line is brought to life through myriad lenses, each presenting a different take on the revisited icon.
Participating talents include photographers Maddalena Arcelloni, Lou Escobar, Katya Mayer, Theo Liu Xiangyu, Cho Gi-Seok, and Suzanne Saroff and artists Nico Ito, Samson Bakare and Everett Glenn. An additional number of talents who have contributed to the project will be disclosed in the upcoming weeks.

PRODUCT DETAILS
The top handle bag comes in three sizes: medium, small and mini. All sizes come in cuir leather, white leather and black patent leather while the small and mini sizes are also available in a vivid palette of hues including bright orange, marigold yellow, pink, azure and bright green. Crocodile and python iterations enrich the precious offer of the line.
Presented in different combinations that evoke basic, precious, playful, and disruptive attitudes, all sizes and colors feature the traditional leather strap as well as an additional Web shoulder strap adding to the style's functionality. Both straps are detachable and adjustable making it a highly versatile accessory, suitable for different occasions.
The Gucci Bamboo 1947 features the same exceptional level of craftsmanship as the original, and the top handle and the closure are made from pieces of bamboo that are hand picked according to the Gucci design specifications, carefully sanded, shaped and finished by hand.
The Gucci Bamboo 1947 bag is available in select Gucci stores and on gucci.com.
---