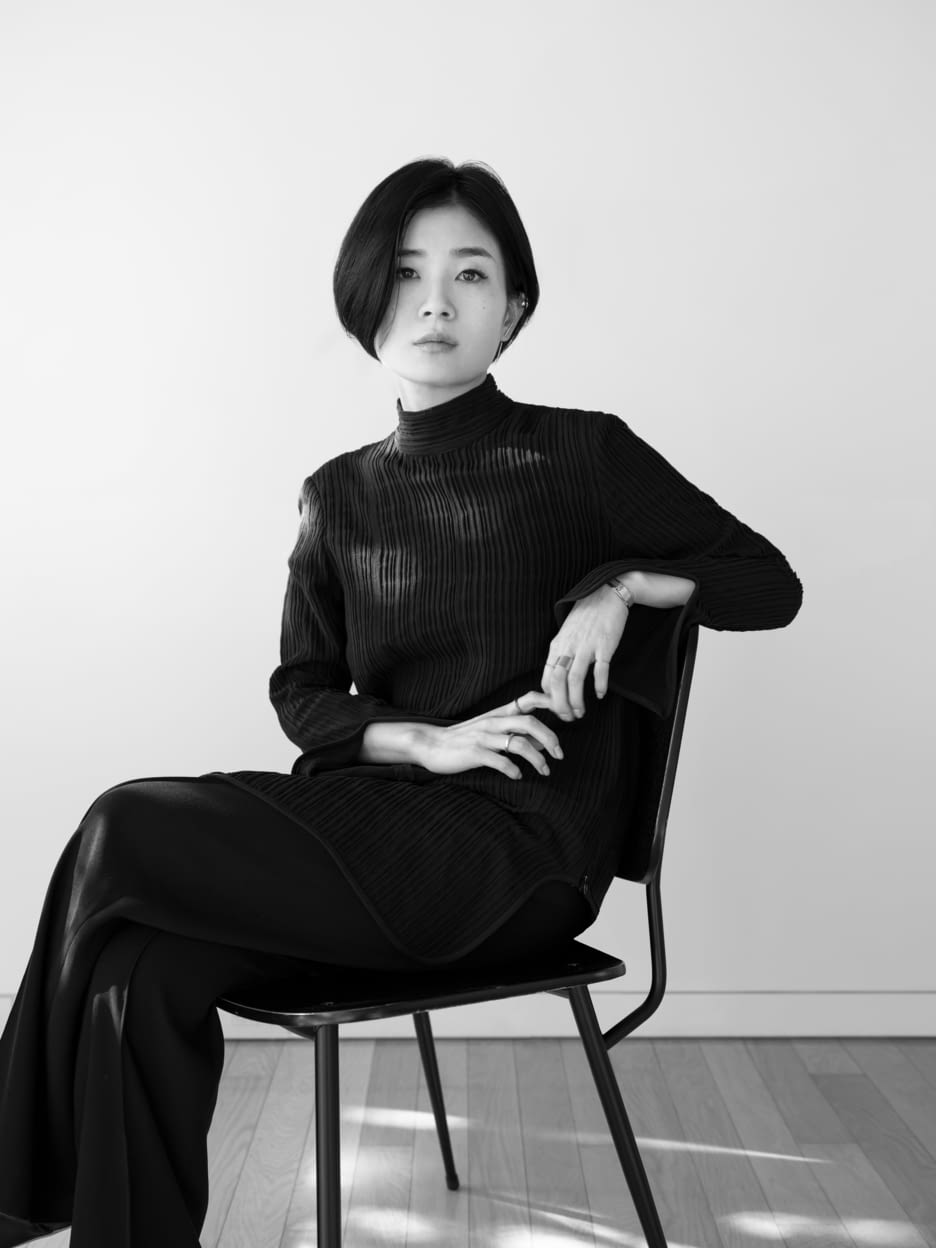 ©Naruo Masami
13/01/2020
-
Margaux Warin
The Japanese designer Maiko Kurogouchi entered the Paris Fashion week's official schedule a few months ago and opened Spring/Summer 2020 fashion week with her show.
Tokyo based, Kurogouchi worked for three years at Issey Miyake before creating her own brand in 2010, Mame Kurogouchi. Her latest collection, EMBRACE, is once more an illustration of her love for Japan's traditions and craftsmanship.
Inspired by the traditional art of wrapping, her creations unveil very delicate silhouettes, reminiscent of Couture thanks to the use of fine materials and subtle details.
Maiko's art relies on the use of this heritage, making the garments wearable and contemporary. Her attention to detail in addition to the delicacy of the clothes, infuse a poetic note across the entire collection: a hymn to Japan and creation.
---
Could you please describe your Spring/Summer 2020 in 3 words?
Embrace, light and calm.
What was your main inspirations for this collection?
The very idea of the term "embrace" has and it came from this experience of growing silkworms in my atelier with our staff. When the silkworms morphed into cocoons, they see the world through thin white spherical walls. They are protected yet at the same time see the world differently. Then I begun researching wrapping culture and reached this book called " Tsutsumu – the art of packaging" by Japanese art director Hideyuki Oka.
Your Favorite look from the collection?
Look 1, 2, 16, 21, 33 and 35
Your collections are made of fine materials enhanced by craftsmanship. Why is it so important for you to cultivate savoir-faire?
So many stuffs, so many information and so many clothes surround our life now and if there's any meaning in making something new, then it has to have values – be it new value or old/traditional ideas that should be reinterpreted to introduce now. Value wears beauty. And the beauty always has and will be born out of long time and exceptional hard work. Savoir-faire and people who knows how to do it is, for me, an answer to make beautiful thing. If someone thinks my clothes bears certain value, then it will last long and I want to tell stories of what moved me.
All your collections are unveiling a different aspect from Japan but your fashion show is in Paris. Do you see fashion as a way to travel and explore?
Fashion is a way for everything. It can be a powerful tool when you travel or venture out of course, but fashion plays big role in daily life. This is what I want to express with my brand. Daily life exists as many as the number of life, and fashion can encourage people in daily events regardless of the scenes and scale.
Why did you choose Mame Kurogouchi as a brand name?
Mame means tiny or "bean" in Japanese and it was my school time nickname which my friend gave to me.
Mame has different meaning which are "delicate"; and "diligent".
I'd expected my brand to glow slowly but surely hence I thought it'd be nice to have a little bit of "mame" in my brand name.
Which artists inspire you the most?
Do Ho Suh, Camille Henrot, Simon Fujiwara, Miyako Ishiuchi… hard to narrow down.
At the same time what moves met the most is when I find something beyond our control or intention. For example when a brush touches to water, the watercolour dissolve into water and create landscape. That what moves me the most and it's hidden in everyday life.
The film that speaks the most to your aesthetic?
I recently watched this beautiful Vietnamese film called the Third Wife by director Ash Mayfair.
It was visually stunningly beautiful but at the same time it shows cruelty of the reality yet in subtly elegant manner.
I like films that shows complexity of reality and emotion. I also like anime too. Ghost in the Shell is my all-time favourite.
The place that always inspires you in Japan?
Factories. And people who work there.
If you could live in any era, when would you choose and why?
I would choose the present time. It is a difficult time, but each era has its own difficulty.
I'm proud of what I am able do in this time and still want to learn more.