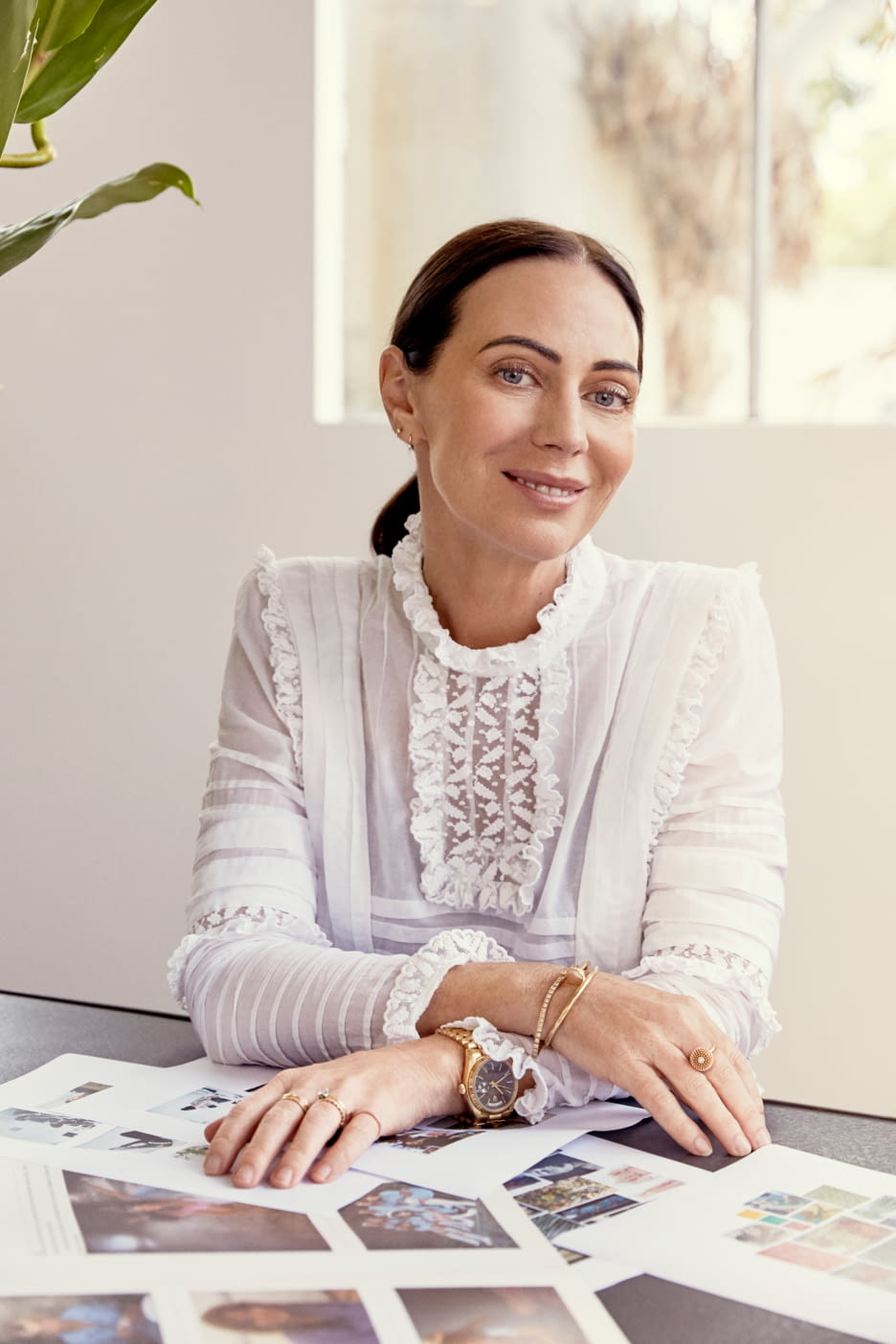 14/06/2021
-
Margaux Warin
Sisters Nicky and Simone Zimmermann founded their eponymous brand in 1991. After studying design in East Sydney, Nicky began to imagine and create her own clothes and sell them on weekends. This is how the young designer develops her own aesthetic. Her talent is quickly noticed and her sister Simone joins her - she takes care of the business, while Nicky takes over the creative direction. The Australian brand meets a great success: New York fashion show, stores's openings... A strong femininity emerges from the Zimmermann collections: light and airy materials, floral prints, romantic ruffles are the leitmotif of the brand. After a year of pandemic and lockdown, Nicky wanted to create an optimistic collection, inspired by holidays in Australia. Smiling models were walking and wearing prints from artist James Northfield - a joyful moment in anticipation of summer.
---
Can you define the resort 22 collection in 3 words?
Optimistic, joyful and nostalgic

Your favorite looks from the collection?
I think the James Northfield postcard printed dress (look 2) is such a fun dress, the artwork feels retro, but the style is quite modern – I'll definitely be wearing this dress out to lunch. Look 15 is another personal favourite – it's made from Raffia in the most beautiful Rose hue and has gorgeous fringe detailing, the matching raffia hat will be my go-to this Summer. I love the chic 1950's silhouette on look 13. The cinched in waist and voluminous skirt with a petticoat underneath is so playful. The dress is made from a divine silk linen organza and we've embroidered ships, jellyfish, and seahorses on it which are a little bit quirky and certainly appeal to my sense of humour!

The main inspirations behind the collection?
I wanted to create a collection that had a real sense of joy and would conjure up feelings and memories of a wonderful holiday - the anticipation, excitement, fun and laughter that we have all been missing so much! We were given the opportunity to work with some of the beautiful art of James Northfield who created iconic Australian travel posters around the 1950's. I was drawn to the colours Northfield used and the romantic nostalgia the imagery evoked.

Contrary to other runway shows, models are always smiling while walking for Zimmermann. is joy a key element of your vision?
Absolutely. Each collection is different but for this season that feel of optimism and joy is really important.

Which of fashion's current issues would you like to focus on for the future of Zimmermann?
As an industry I think it's important that we are working to create collections that women not only love but to do this in more sustainable ways. This is happening in different parts of our business every day. As a brand we have people focused day to day on some of the larger long-term projects, such as mapping and reducing or carbon emissions consistent with global goals. But we also make efforts on all the little choices we make as designers each day, be it the selection of our fabrics and suppliers, or the way we repurpose materials. Sustainability is obviously a key focus for the fashion industry in general and we must all shift to more sustainable practices.

You are opening a new boutique in Cannes - can you tell us more about it?
We opened the Cannes boutique in early June, just in time for the summer. The boutique fits so naturally into the neighbourhood and when you step inside there are little Australian touches, from the artworks to furniture and there's an air of freshness and lightness to the design. One of my favourite pieces inside is a grand leadlight door from a 1900's department store in London, it's just stunning. I have many wonderful memories of visiting Cannes over the years and to now be able to bring a piece of our Australian fashion story to such a special part of the world, makes me so happy. I can't wait to visit soon!

What are the places that inspire you the most?
I mostly pull inspiration from my own memories and where I grew up in Sydney, Australia drawing on personal stories. Australia has always been a big part of who I am as a designer - it influences how I see colour and print, I've always been drawn to it.

If you could live in an era, which one would it be and why?
Well, I have always been drawn to fashion that is nostalgic, free-spirited, and feminine and the 1970's really encapsulated this, so to live in that era (again!) I think would be fun. But I'm pretty happy just living for today –
I'm always more excited about what lies ahead.