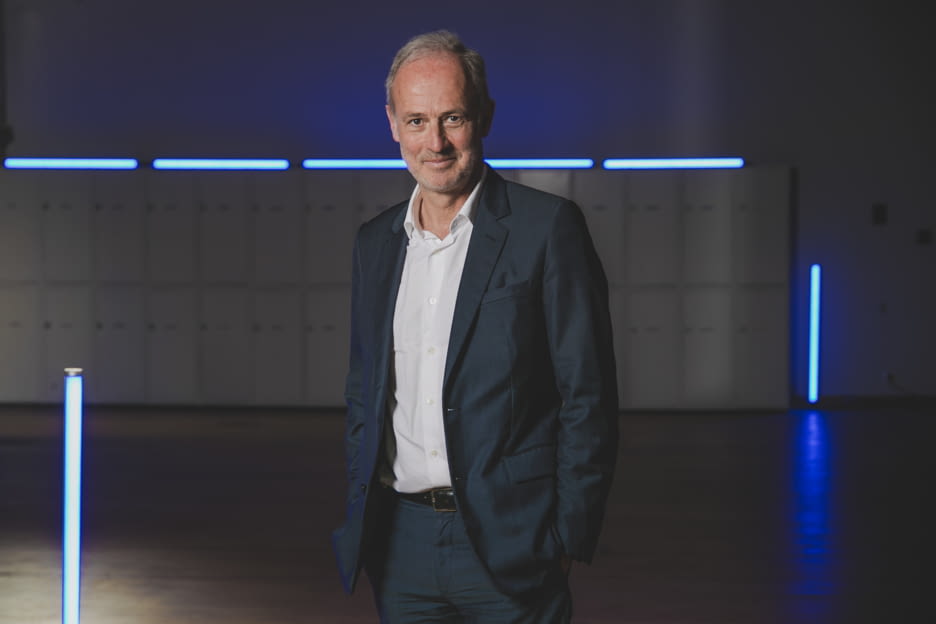 © Institut Français de la Mode – Guillaume Roujas
12/04/2021
-
Margaux Warin
In 2019, Xavier Romatet, the former CEO and Vice President of Conde Nast, joined Institut Français de la Mode as General Manager - just a few months after the fusion of IFM with Ecole de la Chambre Syndicale de la Couture Parisienne. The ambition behind this project was to drive Institut Français de la Mode to become an international leader in fashion education as well as a reference in terms of design, management and know-how.
This year, the school inaugurated a new campus on the banks of the Seine, an hybrid place in Paris which is to become a cultural center for the fashion industry. In February, for the time in its history, IFM presented its fashion show during Paris Fashion Week's official schedule. 48 students of the new Masters introduced their first collection in different ranges of specialites (Menswear, Womenswear, Knitwear, Accessories), enlightening the diversity and level of excellence of the school.
Xavier Romatet took the time to discuss his position and vision for the future of the school with us, as well as the values with which he is driving this project
---
How and why did IFM decide to integrate the official calendar of paris fashion week ?
The Institut Français de la Mode is the union of two schools: the Ecole de la Chambre Syndicale de la Couture Parisienne and IFM, which merged to create a school based on three pillars: know-how training, management training and more recently, creation training which has been completely redesigned in September 2019. These programs consist of a 3-year Bachelor's degree and a 2-year Master's degree. This year our class of 48 students was the first to graduate from this program. IFM's goal is to become a world-class fashion school. To do this, creation is in fact at the heart of our development. We, therefore, thought that the best way to show the creative level of IFM was to propose to the Fédération de la Haute Couture et de la Mode to include for the first time a school in the official calendar of the Paris Fashion Week®, which they accepted. This is how we opened the March 2021 Fashion Week with our Graduate Show.
How do you explain the fact that this is the first school show in the Paris Fashion Week program? (Whereas it is a common practice in London for example)
It is precise because there was no world-class fashion school in Paris, with high-level creative training, that all the players in the fashion industry decided to get together and create the Institut Français de la Mode. When we look abroad at the great schools such as Central Saint Martins in London or Parsons in NY, they are an integral part of the fashion landscape. To be on the same level, it seemed relevant to the FHCM to welcome us at Fashion Week.
This promotion class spent several months confined. How did you motivate and encourage the students to create despite these conditions?
It was complicated of course. When we told them about the project of a fashion show during Fashion Week, at first they felt a sense of despondency. They were tired, didn't think they had the resources to be ready. But there was also a lot of generosity and optimism despite all the constraints. We saw colorful creations, generous in terms of form, optimistic in terms of ideas... I think it's great that despite the crisis, the students had a creative and liberating energy that led them into positive territory. If we fought to be present at the Fashion Week calendar, it is also to pay tribute to these young people, the first "Covid class", who despite the constraints have achieved a work of excellence. And I would like to salute the work and the follow-up of the exemplary teachers.
The IFM campus is a real incubator and allows students to study and train in different techniques with the equipment provided, while at the same time being a place of culture and exchange. What are the challenges of this multidisciplinary campus in the heart of Paris?
We didn't want it to look like a school. We want this campus to be an attractive destination, for fashion people to come here, to use the facilities, to come to exhibitions... We want to bring this campus to life, to transform it into a place of permanent animation, a place where all fashion cultures meet. By September, we will welcome 1000 students, 35% of whom will be foreign students from all over the world. They will all rub shoulders, meet, work and produce together. We want it to be a place of life and energy, 10,000 m2 on the banks of the Seine in Paris, a real destination where anyone can say: " I'm going to take a look at the IFM ".
Can you explain the uniqueness of the course offered by the IFM?
IFM's teaching is based on 3 pillars. The technique because we want students to be designers with applied creativity. The technique today is the learning of new software packages of virtualization of collections, as CLO3D, the association of low tech, the craft, and high tech which allow to combine the hand and the computer. The second pillar is culture, especially in a city like Paris, the capital of fashion. Through the humanities and social sciences, students must be able to nourish their creative personalities and understand the stakes of fashion in today's society. Finally, the third component is the style, to push them to have a stylistic expression as strong as possible. The 48 students who took part in the fashion show are 48 styles, 48 different creative territories.
What are the values you want to promote at the IFM since your appointment?
Since we want to become a reference, educational excellence is our priority. I want to ensure that all programs are constantly evolving and reexamining themselves because fashion is changing. The crisis has forced us to go digital overnight, so we need to be innovative and agile in our teaching and make students the actors of their learning. The second pillar of the IFM is the difference: we must have a specificity that distinguishes us from others. We are the only fashion school to cover know-how, creation, and management - we have all three pillars. The second difference is social diversity, it is very important for us to welcome students from all social backgrounds. That's why we created a Foundation, chaired by Bruno Pavlovsky, President of Chanel's fashion activities, which collects funds from the industry to finance scholarships, and today we have about a hundred students who benefit from a scholarship thanks to this system. Social diversity is also about apprenticeship, which is very important to us; to allow students to have both classes and professional experience in a company, out of our 840 students, 300 of them are in apprenticeship, so they receive a salary and it's the professional training that finances their schooling, in addition to the 100 scholarship students. Social diversity is really at the heart of our project. The third element of difference is that we are an international school and not just a French school. The majority of our courses are taught in English, our faculty is international and we welcome 35% of foreign students. Finally, we benefit from our proximity to the fashion industry. IFM was born from the will of all the fashion houses and major groups such as LVMH, Kering, Chanel, Hermès, Richemont, and others who got together around the same table to build a great fashion school in Paris - which they financed. One last thing I'd like to add is the preference, I'd like us to be the preferred school for anyone who wants to have a career in fashion at some point.
At IFM you also have training courses for professionals, what exactly does this consist of and what type of profile do you need to have to apply?
We have three types of post-experience training: a part-time Executive MBA which is aimed at around thirty students who do not necessarily come from the fashion and luxury sectors but wish to understand these sectors and their challenges to work in them, or who are already in these sectors but wish to accelerate their career. It is a very demanding one-year program. The second type of training is IFM Entrepreneurs and IFM Labels, which is aimed at entrepreneurs who have a business creation project in the fashion sector and who follow a personalized support program to develop it. Then there is continuing education. We have a catalog of about thirty training courses on a multitude of themes related to design, the history of fashion, sustainability, technology… These are two- or three-day programs taught by IFM professors that professionals sign up for as part of their training policy. Today, 3,000 professionals and company executives attend our seminars.
Do you have other partnerships or other large groups with whom you have plans for the future of the IFM?
We have a partnership with Casa 93 and a partnership with the Fondation Culture et Diversité, which are associations that find talent in the suburbs or the provinces and accompany them. We prepare these young people, who often come from underprivileged backgrounds, for the entrance exam to our Bachelor's degree in creation, and if they pass their entrance exam we finance their schooling. Our second type of partnership concerns the strategic problems of companies through research and teaching chairs. For example, we have a partnership with Kering on sustainability and another Chair with a major fashion house will be announced very soon. These are subjects on which our professors are doing research and this allows us to develop new specific courses for our students. For example, for Saint Laurent, we have developed the "Saint Laurent Couture Institute" for the past three years - a program for Saint Laurent interns who are essentially IFM interns (twelve this year). Over a period of six months, they are accompanied by IFM and Saint Laurent professionals to develop a concept, an idea or a collection on a given theme and the results are impressive.