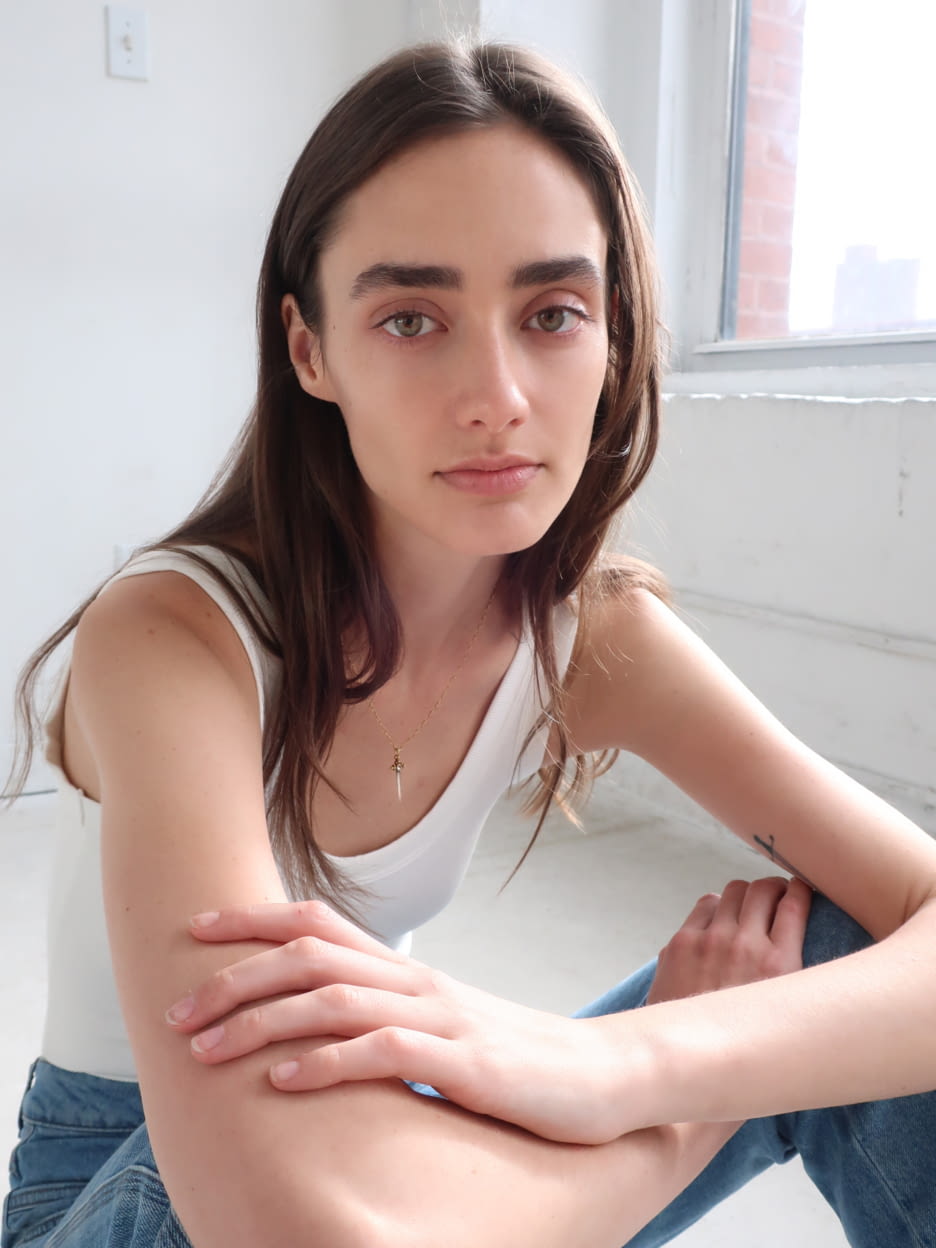 25/03/2019
-
Margaux Warin
After graduating from Brown University with a double major in visual arts and environnemental science, Amanda Googe hit the runway for the first time as an exclusive face for the Prada Fall/Winter 2016 show. Following this, she was photographed by Steven Meisel for the brand's campaign. Represented by Women Management, Amanda has walked for hundreds of shows and last fashion week she was seen working for Chanel, Lemaire, Ulla Johnson amongst others. Whilst modeling, she keeps working on her art. Her exhibition: My aliens has opened in Los Angeles last week. The gigantic portraits show aliens in graphic and very colourful landscapes. Amanda talks to us about the two sides of her career.
---
How were you discovered ?
I was scouted a few times growing up by random agents here and there, but never gave much thought to modeling. At Brown University I double majored in visual art and environmental science. After graduating from Brown, I gave modeling some more thought, so I sent photos in to some agencies I was interested in. I had meetings with a few, and then signed with the agency I felt most comfortable at!
How do you prepare fashion month ?
For my first fashion month, I worked with my agent on my walk and watched fashion shows on YouTube to see what they were like. Today I try to stay consistent with a healthy lifestyle throughout the year, so now I don't change much when fashion month comes around.
Where's the last place you travelled to that inspired you?
I absolutely loved travelling to Tokyo, Japan, there is so much that I love about their culture. The art, the food, and the people all fascinate me. My parents went to Japan when I was younger and brought me back a few little toys and plushies and I instantly fell in love with the "kawaii" aesthetic. I have collected hundreds of these little figurines since and so I have always been surrounded by this style of art. The aesthetics of Japanese art and anime have always been so interesting to me and I think that spirit has influenced my art in some ways. I always wanted to go explore Tokyo just to see this other world of culture, and I really enjoyed traveling there for a Christian Dior fashion show. We had some time off so I took the opportunity to explore Tokyo. Even though I was only there for a few days, I got such a good feeling being there, and cannot wait to go back.
Did you have any interest in fashion before modelling ?
Because of my interest in art, I always had some pull to fashion. I think I was more interested in modeling than I even realized at the time, because when I look at my art from growing up, I realize it referenced fashion and modeling a lot!
You graduated as a Fine Art Graduate from Brown University before modelling. How and why did you decided to give a chance to your model career ?
After graduating, I was working on art while living in my parents' house. I wanted to have the chance to move into NYC to pursue life on my own, but I didn't have enough money to stay there long. When I decided that I definitely wanted to move into the city, and needed a job that would let me do that while still pursuing my art, I thought, "why not try modeling?" because so many people had told me I should over the years.
You are about to set up your art show in LA, could you please describe your artworks and the main theme of your exhibition?
I am so excited about my event in LA. I primarily painted while I was in college, but since I'm living in an apartment and traveling so much, I have slowly transitioned into digital artwork that I create on my computer. I call the show "My Aliens", and I like to think of them as a little celebration of the alien in each of us... They are big, graphic, colorful, and fun, but they also have a somber, almost detached mood.
Do all the things you are seeing while modelling inspire you for your artworks ?
I am so lucky to be surrounded by so many otherworldly personalities and creative energies while working in the universe of fashion. However, this particular project has really been compelled by the friends that I have made through this job. In traveling all over the planet, I have learned how easy it is to feel alien, out of place, and alone. I create aliens of people who I understand, people who have opened up to me in some way, and people who share my experiences and emotions through this fashion vortex.
If you could live in any era, when would you choose and why?
THE HERE AND NOW. That's where my aliens live.