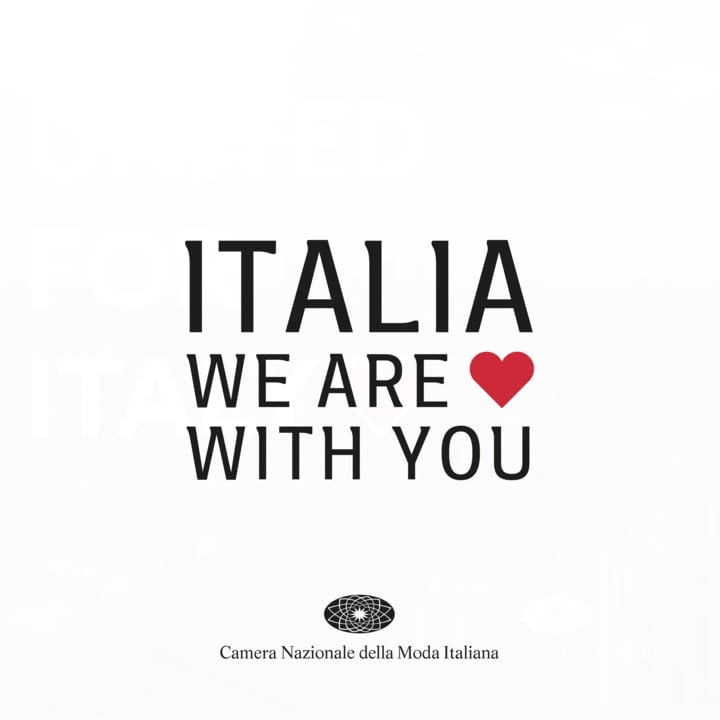 Breaking news -
Camera Nazionale della Moda Italiana, thanks to extraordinary contributions made by its members, is channelling 3 million euros into "Italia, we are with you", a major solidarity project created by thenAssociates of CNMI and open to all Brands and Associations of the Fashion Industry.
This will enable the special Commissioner for the emergency and the Civil Protection Authority to donate ventilators and other required equipment, like medical surgical masks, testing reagents and protective clothing to meet the growing requirements of the country's healthcare system, with which Camera Nazionale della Moda Italiana is in constant touch. The medical equipment will be destined to all the hospitals in need, starting from the temporary hospital in the former Fiera Milano area serving as a reanimation centre for Lombardy and the rest of Italy. Each member of CNMI will contribute to the project by donating to the Civil Protection Authority an amount not lower than their annual membership fee, the non-associated brands will donate an equivalent amount, while the Associations will donate the amount they raised. The list of who joined the initiative will constantly be updated on the website cameramoda.it.

This equipment is indispensable for guaranteeing the survival of critical patients and is at the moment very hard to come by due to the global emergency. Camera Nazionale della Moda Italiana and Chic Investment Group, CNMI's Chinese partner, with the support of Ernst & Young's China and Italy international teams directly facilitated the cooperation between the Italian Civil Protection Authority and the SINOPHARM (China's largest medical group) for medical and technical supplies arriving in Italy from China.


"With the initiative "Italia, we are with you ", members of Camera Nazionale della Moda Italiana and all businesses of the Fashion Industry showed their big hearts as well as their commitment to our country. Our associates created many generous individual initiatives, converted their business production to
manufacture masks and protective medical clothes. They proved to be keen to act together in order to decisively support a common initiative and this cohesiveness allowed us to find the medical equipment which will hopefully save many lives of people who are suffering and to whom goes our sympathy." says CNMI chairman Carlo Capasa. "A special thank you must go to the government's special Commissioner for the emergency Domenico Arcuri, to the Civil Protection Authority and to its Chief of Department Angelo Borrelli, for the incredible work and for the precious support to this project. A big acknowledgment then goes out to our partner Chic Investment Group and its executive director Helen Tu, for the valuable support in finding the necessary medical equipment, and to the Chinese institutions who have acted without hesitation and shared their experience, thus demonstrating how important it is to be united in moments of extreme adversity. In particular, our thanks goes to the government of Nanjing, with which Italy has a long-standing and extensive collaboration, not only for the generous donations, but also for providing excellent logistical coordination services, as a response to our campaign "China we are with you". Launched in the last months, the campaign allowed over 25 million users to virtually follow our Fashion Week in China. The coming months are not going to be easy, cooperation is needed, because together we showed that we can overcome any obstacle."


Much more material will arrive from China and will be allocated by CNMI to Milan's city administration,nwhich will distribute them as necessary in co-ordination with the Civil Protection Authority. The China National Textile & Apparel Council, the China Fashion Association, the Shanghai Fashion Week,
LZY SUZHOU CHINA, the Shanghai International Fashion Federation and Consulate General of thenPeople's Republic of China in Milan, donated a high number of masks and medical equipment for Italy.

CNMI will also receive 10 ventilators, donated by Xi'an Sino-Italian Fashion Town and Nanjing Lishui Sino-Italian Innovation Town, which will be delivered from Shanghai.

In cooperation with the Italy-China Fashion&Creative Council and the support of Jing'An's government and Futian District, Chinese business players of Shanghai, Shenzhen and Nanchino, will be involved innorder to raise donations and seek medical equipment on the Chinese territory.
Camera Nazionale della Moda Italiana and China are thus moving closer together to combat the adverse effects of the spread of COVID-19.
Sharing, solidarity and union between different countries always represent fundamental values, especially in times of international crisis.


For this reason, the role of the Institutions , with whom we are in continuous contact, is very important.
We thank for all the effort of the Government, the Parliament, Lombardys' administration and the Municipality of Milan for handling this emergency.



Camera Nazionale della Moda Italiana would like to express its closeness to all the people affected by this terrible emergency and its deep gratitude to all the doctors and hospital personnel for their fundamental and tireless work, that inspired us in the planning of our initiative.
The initiative is open to all association and brands of the Fashion industry.



Bank transfers can be made at:
Banca Intesa San Paolo SpA
Filiale di Via del Corso, 226 - Roma
Intestato a Pres. Cons. Min. Dip. Prot. Civ.
IBAN: IT84Z0306905020100000066387
BIC: BCITITMM
As reason of payment please indicate: "Erogazione liberale ex art. 66 Decreto Legge 17 marzo 2020, n.18", and send a communication of the transfer to Camera Nazionale della Moda Italiana
(email: barbara.beghin@cameramoda.it).