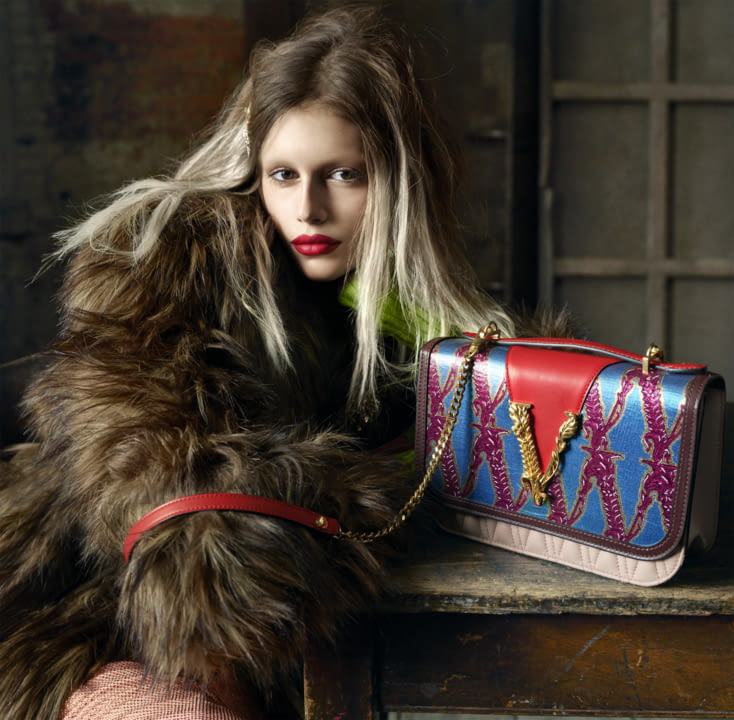 New products / Fashion house - 9/5/19
The new Versace handbag line, Virtus, debuted on the Fall-Winter 2019 runway. Taking its name from
the Roman deity, Virtus symbolizes strength, courage, and character.
A bold symbol of the brand's aesthetic heritage, the central gold-tone metal Barocco letter V characterizes the bag.

The Virtus bag comes in many variations: as a tote, top handle, belt, shoulder or evening bag.
Crafted from supple calf leather, the Virtus is declined in a variety of colors and finishes. In the Fall-Winter
2019 collection, the Virtus line is available in an array of bright, bold colors such as turquoise, fuchsia,
coral red as well as more toned-down hues like camel, black and white.
The leather workmanship ranges from smooth to quilting with a V-letter pattern. The bags feature magnetic flap over closure and some models feature shiny jacquard inserts with the V-letter motif embroidered in metallic thread.