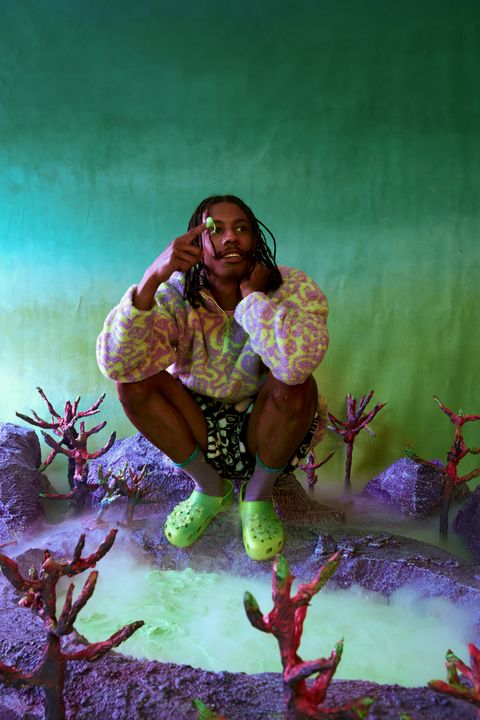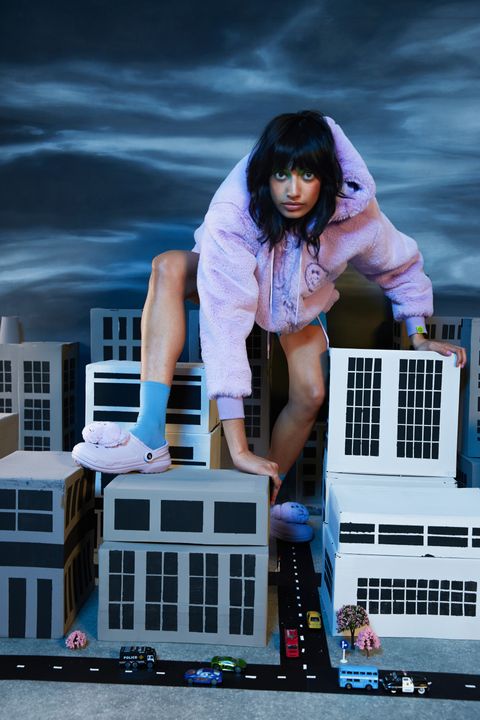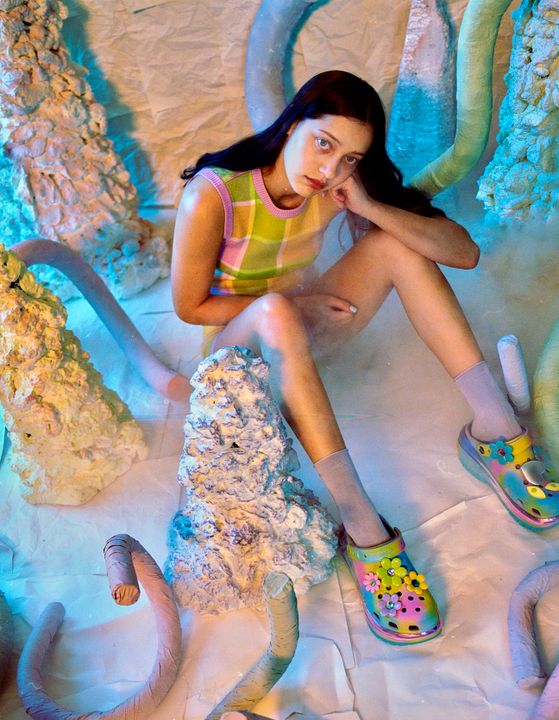 Collaboration - 5/21/22
ACTIVATE SPACE MODE WITH CROCS x LAZY OAF

May, 2022

This spring/summer 2022 leading global footwear brand Crocs, Inc., joins forces with cult London-based brand Lazy Oaf on a limited edition pack of three otherworldly footwear styles that take Crocs to new dimensions. The collaboration is a perfect blend of the two brands; embodying Crocs' recognizable silhouettes and Lazy Oaf's original style in three exclusive clogs.

Speaking about this unique collaboration, Yann Le Bozec, Senior Marketing Director, EMEA "Crocs lives by its 'Come As You Are' manifesto, and our mission is to make everyone feel comfortable in their own shoes, so it felt only natural to partner with Lazy Oaf - a brand that shares our passion of creativity and self-expression. This collection welcomes three fresh and unexpected styles to Crocs, bringing Lazy Oaf's unique DNA to our iconic clogs. Over the years, we've owned our narrative and have embraced what our fans love most about the brand: becoming a vehicle for imaginative innovation."

"I'm personally a big Crocs fan, and I'm not sure how my toes would have gotten through the pandemic without the most comfortable shoes on the planet. Crocs have been a staple in many a Lazy Oaf campaign, and we think they're the ultimate shoe for anyone craving that 'Lazy' lifestyle. We love the lo-fi aesthetic and unpretentiousness of Crocs and we're so excited to be partnering with them on this collection. Working with the Crocs team has been so easy and we really aligned with them on brand values; like us, they're big on community, inclusivity and creativity. This mutual understanding meant we had the freedom to play with possibilities, experiment and explore ideas, resulting in three bold styles that each reflect elements of Lazy Oaf's signature style. To top things off, we further collaborated to imagine a whole creative universe for the collection to exist in. I can't wait to see everything come to life for launch." - Gemma Shiel, Founder and Director of Lazy Oaf

Leaning into its extra-terrestrial inspiration, the collection is a fresh and bold iteration of the iconic Crocs silhouettes we know and love; the Classic Clog and Classic Lined Clog are reimagined in trippy colourways and textures, plus the collection also introduces the latest addition to the Crocs family - the larger-than-life Mega Crush Clog.

The slime green Classic Clog is fully loaded with Lazy Oaf custom Jibbitz™ charms, playing into the translucent trend with a splash of sci-fi neons.

A plush, oversized, three-eyed teddy is brought to life through the Classic Lined Clog - a nod to the massive, city destroying monsters of cult doomsday movies.

The Mega Crush Clog brings style to new heights with a super-chunky, multi-coloured spray dye platform outsole, embellished with customized Jibbitz™ charms showcasing Lazy Oaf's signature flower and heart motifs.

Inspired by Lazy Oaf's signature creativity and the surreal, the collection is brought to life by London-based set designer Penny Mills and photographer Laura Allard-Fleischl with three distinct visual worlds for each shoe. Embracing the 'sci-fi meets nostalgic gaming' aesthetic, the duo have created their own realities; inhabited by the characters seen on each shoe.

And that is not all. To celebrate the partnership, 40 lucky individuals and their friends will have a chance to win a ticket to the launch party in London on May 19! Follow @crocseurope and @lazyoaf for more information.

The collection will be available on www.crocs.eu, www.lazyoaf.com and in Lazy Oaf's London stores from 19th May 2022.
Prices range from £64-£105.
---