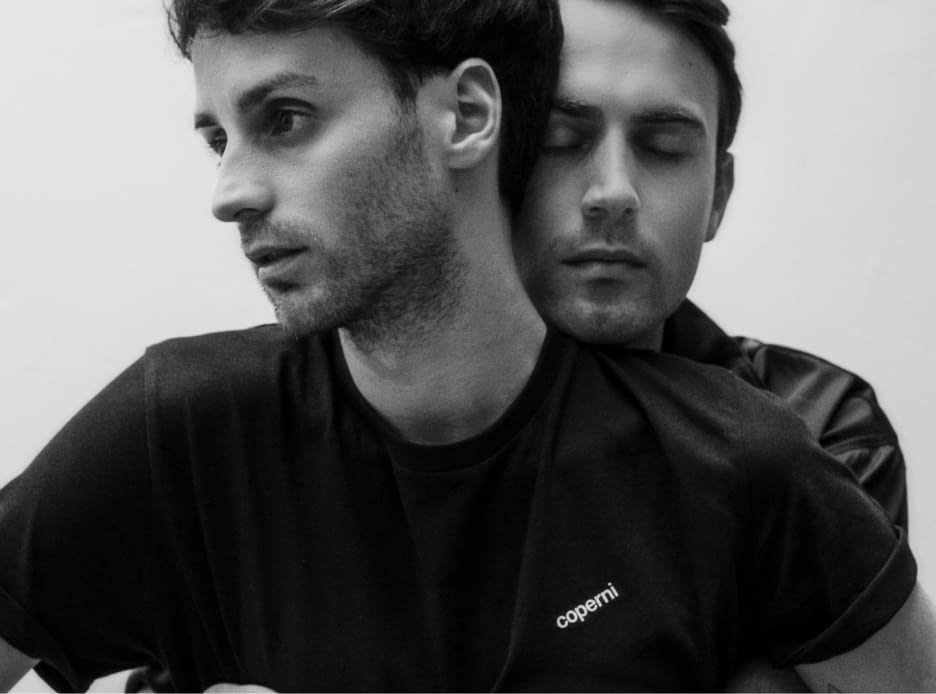 © Erik Faulkner
05/01/2021
-
Margaux Warin
In 2013, Arnaud Vailland and Sébastien Meyer created their first label, Coperni. In the same year, they won the ANDAM First Collection Prize and, two years later, they were nominated as the head of Courrèges. After taking a break from their own brand, they came back last year and are now back on the Paris Fashion Week's Official Schedule and part of the New Now program. Last month, they held the first physical show of Paris Fashion Week after the lockdown, as well as the highest show ever made, on the top of the Montparnasse Tower. Always inspired by the digital world, they are working this season with technology in their creations, creating antibacterial clothes with UV protection. We met them through Zoom to talk about creation in times of Covid and their several sources of inspiration.
---
If you could define the SS21 collection in 3 words?
Innovative, optimistic, and chic.

What is your favorite look ?
There are two strong themes in the collection: futuristic, sport, and another more vague, poetic but just as geometric. Look 7, the top is fitted and antibacterial and more comfortable at the bottom with a "mechanically blurry" fabric (a thermofused satin that creates a fluid Japanese inspired joint).
This collection was a response to Covid, being able to be comfortable in your outfits while being able to be seen for work, for example in a Zoom meeting. I also love Look 14.

What is your main inspiration for this collection
We wanted softness and comfort while remaining in the Coperni DNA: minimal, futuristic, and chic. It is a collection named "Ready to care", in reference to the caring purpose of it, thanks to specific materials: 1/4 of the collection is conceived in smart fabric, anti UV, breathable and hydrating.
In Italy, the fabric is soaked in a bath of anti-bacterial and virus-protective silver molecules. It all ties in with the idea of taking care of the body of the woman that you dress and protect. Also, from look 26, the theme "extension" goes from Leonardo da Vinci's body thanks to pointed garments that are stretched at the end.

The brand is inspired a lot by digital technology, would you say that technology and fashion are inseparable?
Yes, innovation drives us. The name of the brand is linked to Copernicus the astronomer because science and planets are fascinating for us, involved with a more human aspect. We like to transcribe technological progress into our clothes, but without making it a gadget. This is also seen in the bags, inspired by Wi-Fi or even Bluetooth: as much in the symbols of technology as in the innovation itself.

Your shows always take place in surprising places; What inspires these choices?
The idea is to encompass the entire Coperni identity, with places linked to technology or architecture.
Season 2 was on the Apple Store and Season 3 was at Station F, the world's largest start-up incubator, in order to give an idea of the Coperni woman, the amazon, and web explorer.
This season, the show was on the roof of the Tour Montparnasse, was the highest show ever made in Paris: our goal was to bring the public into the clouds, despite a difficult organization/period due to the health crisis.

What are your favorite places in Paris or elsewhere?
We like places of art such as Beaubourg or the Monnaie de Paris. Design shops and architectural places, such as the houses designed by Le Corbusier. But also places of life and celebration such as Memphis, a legendary Parisian nightclub.
The glasshouse of Pierre Chareau, a sumptuous place in the 7th arrondissement, the Orangery museum, and the Gagosian art gallery in Le Bourget.

What are your main sources of inspiration?
Art, architecture, technology. Sébastien is able to create a collection from 2 things, such as an iPhone, a tool with which you can discover everything, and an Ipad you can draw on.
Science fiction films also fascinate us, while making us think about new worlds on the substance of styling.
But also many contemporary artists such as the architects Donald Judd and Tadao Andō, and the sculptor Michael Heizer.

If you could live in another era, which one would it be and why?
The future, of course, to witness how human beings can surpass themselves thanks to technology.