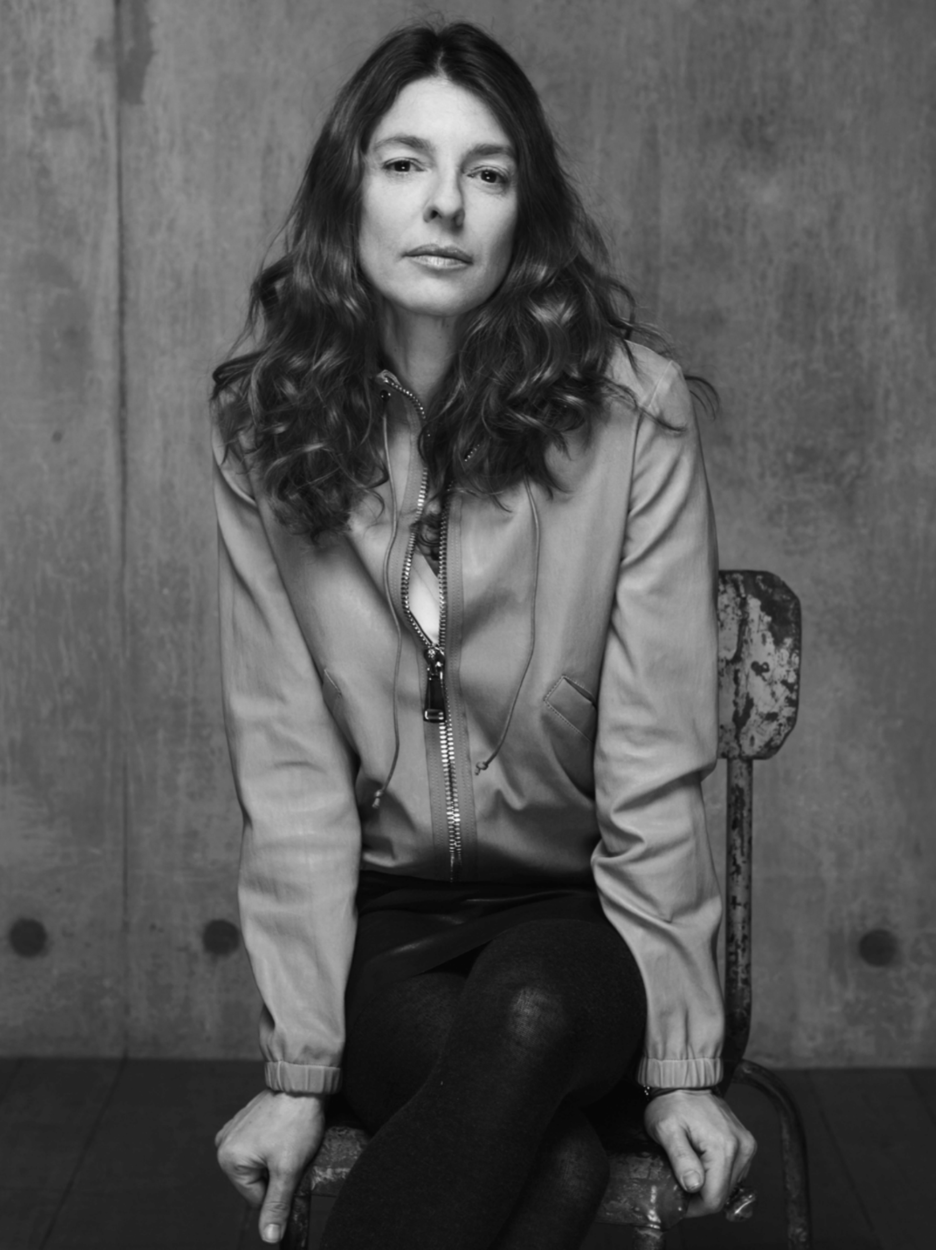 Aurélia Stouls
22/07/2019
-
Margaux Warin
Stouls is renowned for its stretch and machine-washable leather as well as for its bold use of colours. The brand was founded by Aurélia Stouls in 2004. Former shoe designer, she has worked for brands like Carel or Thierry Mugler before deciding to launch a product: a washable leather tee-shirt. Step by step, she created more pieces and drew an entire wardrobe, made of only leather clothes of vibrant colours. Stouls "democratized" leather by making it lighter, on clothes in which women are free in their movements. Each season, Aurélia uses different shades of radiant tones: "Prince, "Mentalo" or "Bora Bora" on her new pieces. Inspired by art, mostly photography and her travels around the world, especially in India, she talked with us about her vision of the brand and her several and diverse inspirations.
---
Can you describe Stouls in 3 words?
Leather, Washable, Color. And if I had to say a fourth it would be "15 years old"
What were your main inspirations when you created the brand?
To make a leather T-shirt that can go in the washing machine. What I'm wearing today is the first model.
What is your favorite look of the collection?
Spontaneously without thinking, I think it's the belted skirt, called Megan. She is red arrabbiata. She is sexy and feminine.
There are several models that I like a lot but this piece is really the first that comes to mind.
You only use one material for your creations, the leather. Can you explain this choice?
And one leather, the stretch lamb. This choice stems from the first model. When I created Stouls I did not want to launch a brand of leather, I wanted to launch a line of leather t-shirts. Who says a T-shirt has to be jersey or stretchy mesh, and machine washable. I wanted to make a universal product and what's more universal than a t-shirt? There is something for all tastes .. I would say that it is the Genesis of the brand, everything has flowed from wanting to make this specific product. When I started to develop the range of clothing, I wanted to stay in the idea of this mono-material then little known and used. And in mono-material, I wanted to be creative in color. I wanted to deploy a very tight field of models through color, and tell a universe through my scales.
taking leather out of its straightjacket, because it was either big pieces like coats or very sophisticated. There was not the same freedom to be and to live your life only in what I wanted to do in this leather cloakroom.
You started your career in accessories, how and why did you also come to create clothes?
Mainly shoes. After 15 years of creating shoes, creating shapes and heels, coming and going in factories every week, I wanted to change the pace of life. I stopped making shoes, I enrolled at the Sorbonne but after six months I wanted to do something concrete again. I had the idea of two projects: a big project that never saw the day and the small project that became Stouls. After a year, returning to the Lineapelle salon in Bologna, touching leather scarves that have a very delicate hand, very close to the flexibility of a fabric that I wanted to return to - leather - but not through the shoe, through the garment. It's by touching leather that I wanted to make a t-shirt.
Stouls is known for its colors - do you have one that you like in particular?
My favorite color is purple. Our winter violet 2018 is called 'Prince', because our colors are vintage, I also like the aquatic green "Bora Bora", the green "turf" or the green "mentalo" of 2010. I like almost all the colors, rare are the colors I do not like. Just the pink salmon, and yet I like the rose. There are about twenty colors per season. There are so many shades of colors, I love them all but for me purple is the grail of color.
The artists who inspire you the most?
There are many. In painting, the last one that inspired me a lot was Nicolas de Staël. Through the material, I really like Sheila Hicks, it's absolutely sublime. I discovered Elise Djo-Bourgeois at Villa Noailles. What inspires me a lot is photography because it includes a gesture. It may as well be the nude photographs of Saul Leiter who is one of my favorite photographers, I did not know he was naked until I discovered that by passing a bookstore a year ago. I love the photographs of Viviane Sassen who, in my opinion, has an artist's look, a look at the woman and the clothing and a look at the color. The extremely intimate work of Annette Messager. I also like the work of Patrick Tosani, I like his way of changing his point of view, I find it incredible.
All the painting ... The colors of Van Dongen .. As soon as there are colors that inspires me but even the neutrality of a Morandi I can be inspired. Color carries me along with everything related to movement.
And the movie that inspires you the most?
I can not give one.
I'm crazy about Quentin Tarantino's film "Pulp Fiction". The dialogues, the scenario, the styling ... The more you see it, the more you notice other things.
I am a fan of all Jacques Demy's films. For me this man has such a grace in his way of filming, with the music of Michel Legrand. An unforgettable film is "Demoiselles de Rochefort". I think it's a film that has not aged. The framing, the plans, the reports of colors, I find it magic.
Antonioni's "Blow Up" was my first emotional experience with cinematography. I was a little girl in the countryside in front of a small TV, glued to it. Thiis film fascinated me. It's always a fascinating film. This is my top 3 but there are so many others. I can watch "Le Corniaud" for the fiftieth time and still laugh so much. "Singing in the rain" is also absolutely beautiful.
My last favorite is the Palme d'Or "Parasite", it's a masterpiece!
To summarize, I am very eclectic in my tastes. In the plurality of what I love, each time it comes to touch a different string, I am not at all mono-maniac in my tastes.
The last trip that inspired you?
India - where I go regularly. I go there as often as possible. It is a country that feeds me and helps me a lot. There is such a wealth of senses, be it visual, olfactory. What we see is so at odds with our culture, our reflexes, our relationship to life, death and creation. It is a profusion of colors, jewels, fabrics. I spend hours at fabric manufacturers. It is a country of great wealth and there is a wonderful and inspiring know-how.
If you could live in another era, what would it be and why?
I would have liked to have been 20 years old in the 60s. I like the aesthetics of this period, I like the idea that it is a moment during which the youth is released and expressed - not necessarily to breathe a better air but to get laid in the air more freely, to dance more happily. I really like the aesthetics around this period: cinema, fashion, music ... and suddenly I'll be 30 years old in in the 70s, wildly creative, the dream! The years 60-70, it is not very far from our time, I would have liked to live it in this shift of generation.