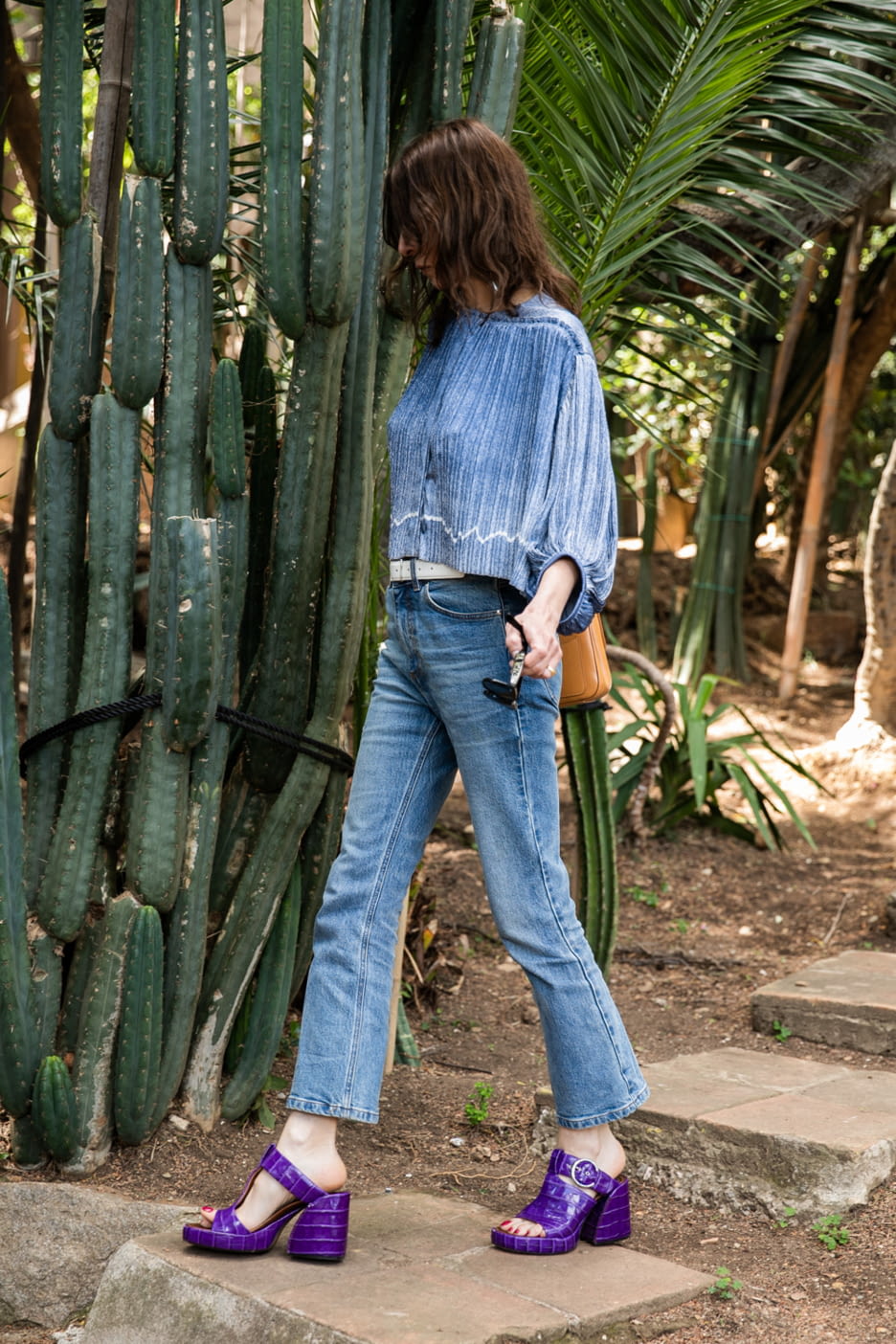 20/05/2019 - Tagwalk
Named Fashion Director of Vanity Fair France in March, Camille Bidault Waddington also contributes to publications such as Purple, Self Service Magazine and Dazed. Her "Bourgeoise" style as well as her intellectual approach to fashion and her huge creativity are what have made her one of the most renowned stylist in the fashion sphere. This year, she was once more part of the Fashion Jury of the Hyères Fashion Festival, presided by Natacha Ramsay-Levi, her long time friend. It was the occasion to speak with her about her vision of the Festival and her expectations in young talents.
---
What process do you go through when you look at designers? What are the 3 main attributes you really search for ?
It depends if it's to dress myself, or for a photoshoot, or if it is just something I look at because it's the show season.
And if you look at a designer for a shoot, it's more a photographic thing, it's more like fitting a story. It's looking at a few designers that actually suddenly make sense.
So you focus on a couple of designers?
Yes - it depends if it's someone you like or don't like, to see the evolution of a collection and of a brand.
When you are working - where does your inspiration come from?
It's a feeling and a reaction to something that I might not like, something that is triggered by something. It can be a photo, a concert, a friend, a model and then you build some kind of a character. In a way I need to find that character credible, even if it's not reality,, at the end it's a photoshoot and it needs a bit of fantasy. It's on a special planet you would imagine, it would make sense somewhere, somehow.
What's the best piece of advice you have ever received ? Or the mistake you've made you wouldn't do again?
I learnt that it's not very respectful to put clothes back to front and inside out, so I would probably behave a little bit more that I did. But at the same time it gave me lot of confidence to not over respect everything because a runway, a shop and a photoshoot are very different stories and ways of communicating. I think that stylists now have a fear that I didn't have.
How do you react to that fear? Do you still feel free?
Yes, I am. I absolutely respect the system of shooting total looks because it's the way magazines now work, so you can't despise it. But sometimes you have to say no, you have to find another way.
Could you please describe the Festival de Hyères in three words:
Sun, Amazing Architecture, Friendship
Chanel created the Métiers d'Art price. What was the attributes did you think of when you chose the winner ?
Basically you have a young person with a strong vision and you give them a Rolls Royce.
When I looked at their portfolios, it's their way of understanding the chance they have, what they do with that chance, if they're not too scared, if they know how to explain their vision of the Métiers d'Art.
I liked seeing the way they each brought the Métiers d'Art into their universe and understood all of the amazing possibilities of they had with access to these Ateliers.
You have to understand that you are doing something very special, and you are given an Atelier with a savoir-faire, something they might never touch again. I think it's very clever, and it made them think how things are made, make them aware of what is possible.
Are you judging only the work or also the personality, the universe?
The personality is very important.
When you feel they don't believe in what they do. It's important to be able to articulate what you do but when you are a sensitive person sometimes it's not your best asset to talk to the press, to explain what you do. The thing is that they are young, and we look at them like professionals but they are just out of school. You have to see their projection of the future, where do they want to go after? Some want to be designers, some want to work in a Fashion House. It's very important to understand the credibility. You look also at what they wear, it's a vibe.
Do you check their social media?
No I didn't have time but I should have done that. I will maybe look at it now. You need to be aware of how they show their work, it's like a portfolio. Now you need to be able to deal with your image.
When you look at social media, you get a general first impression and overview. It's important to have a universe.
Last thing that inspired you?
It's probably a film or a photo or even fashion. I think is only in my head is like a "pot pourri".
That's why culture and research are so important, it doesn't just fall out of the sky, it's inside of you. It's a lot of subliminal messages of your brain, body.