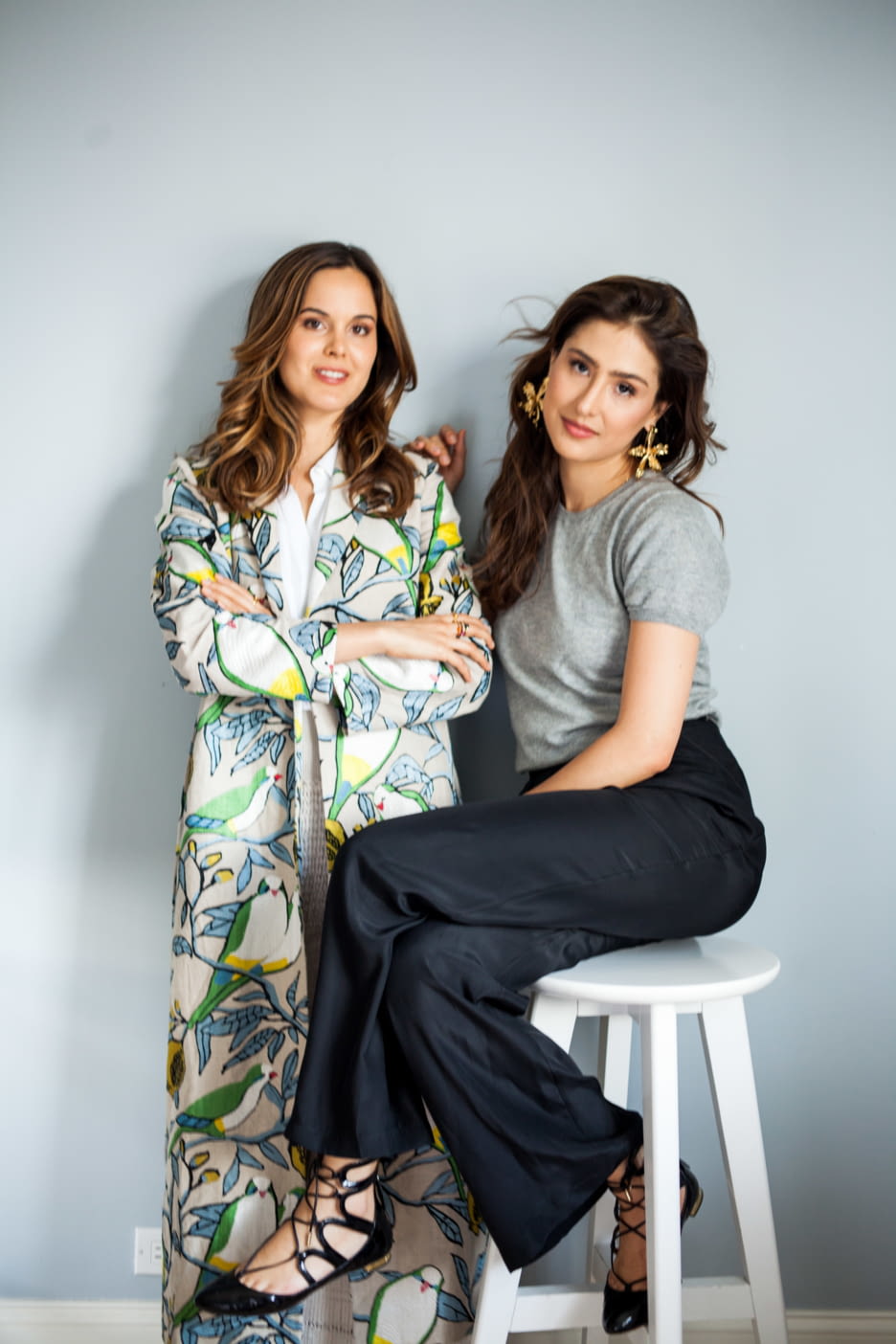 17/07/2018 - Margaux Warin
Cloclo Echavarria and Giovanna Campagna are the two Colombian cousins behind Creo Consulting, a company which aims to bring Latin American designers to the international scene. Giovanna grew up in New York and Cloclo in Miami and then in Switzerland before returning to the United States. The two young women noticed the lack of visibility given to the Latin American designers and decided to found Creo Consulting in 2014. Based in London and New York, the company operates as an incubator for brands: it accompanies and advises them for the presentation of their collections and produces their imagery. Creo means "I believe" in Spanish and it its the credo of the two cousins when they choose the talents they represent. Each of the designers has a very strong identity and incorporates the traditional craftmanship, as Mola Sasa colored pouches made by an indigenous tribe, the Kuna, or Maison Alma, coats embroidered with tropical motifs. The two cousins aim to showcase the Colombian culture, which they embody, as attested by their work, but also the now famous celebrations given by Cloclo in Cartagena, a sumptuous mixture of festivities, discovery and hospitality. On the occasion of the year of Colombia in France, Cloclo and Giovanna will be present at Colette, which celebrates many designers they represent, chosen by Esteban Cortazar for the event.
---
What's the last thing you saw that inspired you?
Cloclo: A wedding I was at in Paris this past weekend. Not only was it completely surreal but the love radiated from the couple, for each other and their guests! People, places and moments are continuous inspiration for me!
Giovanna: The ocean! There is nothing like nature to stimulate your senses and your imagination.
How did you find your vocation?
Cloclo: It's funny but I think it found me! Before starting CREO, I was often connecting my friends who were designers with my friends who were stylists, editors or in retail. For years I kept trying to do different things (at one point I wanted to be a wedding planner!) and it always seemed so difficult. That was until Giovy and I started CREO, from the beginning CREO was so easy, so organic.
Giovanna: I had to create it, and did this along with my partner and cousin, Cloclo, when we had the dream of forming CREO!
Explain your job in one or two sentences:
Cloclo: We create and promote a cross-cultural exchange between Latin America (Colombia in particular) and the rest of the world, whether it is in the realms of fashion, art, design, and/ or tourism. I do what I love!
Giovanna: We produce projects and intitiatives in fashion, design, and art that bridge Latin America and the international market. Our central focus is helping exceptional Latin American fashion brands break into the global industry.
Why is it important to you to bring to international Colombian designers ?
Cloclo: To me, Colombia, and everything the country has to offer, still remains one of the best-kept secrets. Although we are getting more attention than ever before, there are still so many stories left to tell and so much beauty to explore.
By telling these stories and providing Colombian designers with international visibility, we are giving them a voice and a chance to show the world their talent. It not only empowers the designers but also helps to promote the country as a whole.I think its important to note that for a very long time, our country had a very bad reputation and it makes me happy to know we are helping to write this new chapter it is living!
Giovanna: Colombian designers offer the mainstream something fresh and different. It is important to recognize the achievements and potential of brands that are growing outside of the typical fashion "centers" and institutions.
Most of the designers you represent are producing in an artisanal way, does it seem important to you to keep working with artisanal companies in fashion today?
Cloclo: Colombia is a country that is so rich and diverse not only in its flora and fauna but also its people and their workmanship. By incorporating the artisanal techniques and skills into our products, we help to preserve our country's culture, history and heritage. We are careful that when integrating these unique and hand crafted techniques it is done in a way that is elevated and speaks to an international audience.
Giovanna: Definitely; brands incoporating artisanal methods are not only promoting the workmanship, but they are also preserving the practices themselves by creating jobs and opportunities for the artisans who have dedicated their lives to learning their craft.
The place that always inspires you in Colombia ?
Cloclo: My house in the old town of Cartagena.
Giovanna: Cali, the city where my mother grew up. Our family home is filled with the most incredible gardens and natural vegetation - it feels like a tropical oasis!
If I say "Colombia", which three words come to your mind?
Cloclo: Warmth, festive, lush
Giovanna: Color, nature, celebration.
Which woma(e)n inspire(s) you the most?
Cloclo: The women I am surrounded by are those that inspire me most. This includes my friends, my family like my mother, my sister in law, my wonderful cousins and aunts as well as my coworkers and mentors.
Giovanna: I would have to say my mother, who has become a leader in Social Impact in Colombia. She somehow manages to have a family, a career, give back to her country, always look beautiful, and have fun along the way!
Which artists inspire you the most?
Cloclo: Depends, it often changes depending on what part of my life needs inspiration… At the moment it is the work of a group of Colombian artists called Popular de Lujo. Much of there work will be displayed at our colette event.
Giovanna: I was recently in Rome and reminded of how much I love the Italian Old Masters... The work of Titian and Caravaggio is so powerful, and represents a time when art was very much at the center of life - of politics, economics, religion, etc. I find it so fascinating, especially today when, even in the US, our leaders sometimes lose sight of art's great importance to society.
If you could live in any era, when would you choose and why ?
Cloclo: The one I am living in! I think we always have a tendency to romanticize the past and although we are living difficult times they are also very exciting times. I believe in our generation and look forward to seeing what comes next.
Giovanna: would go back to a time before cell-phones were invented to experience life before we all became so reliant on technology. I am admittedly addicted to my phone, and wish I could see what life - and human interaction! - was like without them.