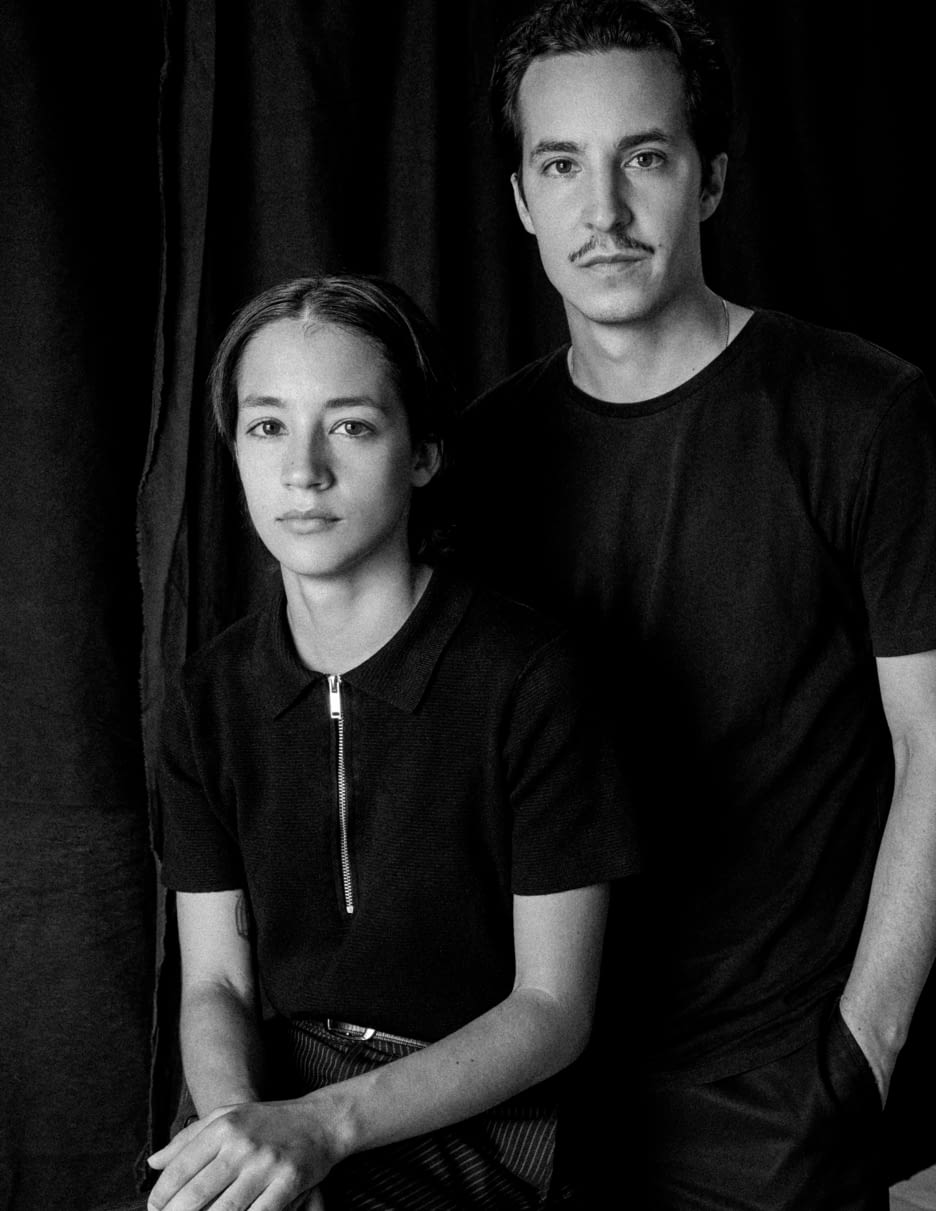 22/01/2021
-
Margaux Warin
How to create wearable clothes while remaining faithful to their identity was Reid Baker & Inês Amorim's challenge when they imagined their Fall/Winter 2021 collection, presented earlier today at the official calendar of Paris Fashion Week. Launched in 2017, the brand
Ernest W Baker
is a tribute to Reid's grandfather, a self-made man whose style inspired them both. Focus on tailored pieces, Ernest W Baker is mixing classic and modern to create, simultaneously, timeless and playful silhouettes. Spotted by the Fédération de la Haute Couture et de la Mode, they are part of the "SPHERE" program.
Due to Covid, they felt the urge to adapt and to include a sense of casualness in their new collection, represented by t-shirts, pajamas, and a dressing gown. To embrace contemporaneity while remaining inspired by past references is a strong challenge they successfully won in this new collection.
"What we strongly believe in at
Ernest W. Baker
is that reinterpreting the past serves to inspire the present and transform the future. And right now, we have only one certitude: even the worst of dreams will eventually fade into the wakefulness of a new day. Here's to a good morning ahead."
---
IF YOU COULD DEFINE THE FW21 COLLECTION IN 3 WORDS?
Classic, Comfort, Dreamy
WHAT IS YOUR FAVORITE LOOK ?
The western-inspired blazer, with our classic pair of trousers, clean yet slightly referential to Americana.
WHAT IS YOUR MAIN INSPIRATION FOR THIS COLLECTION?
This season, it was a bit of 3 parts that came together: The classic Ernest character that we play with in every season, but due to the current situation we wanted to go slightly more comfortable, a bit lounge, sort of play with this idea of high/low. Tailoring with t-shirts, double-breasted perfect coats with pajama trousers. Sort it referential to the current moment we are living in, yet still maintaining the codes of who Ernest W. Baker is. We have organic t-shirts, organic denim, which are new categories for us as well. A bit more casual but we tried to insert it in a way that still reflects the brand's DNA. We let our inspiration come naturally every season. We added these touches of more down to earth, and casual. For us, you can be at home but still, take care of yourself.
THE BRAND IS INSPIRED BY REID'S GRANDFATHER - CAN YOU EXPLAIN US MORE HOW AND WHY HE IS INSPIRING YOU ?
My grandfather is quite a character and representative of the traditional American family, a self-made man. Ernest W. Baker, we like what it represents, the classicness of the name itself. In each collection, we insert this idea of family heritage. Taking away my grandfather's name, it is a very strong house name, that represents our families and our heritage.
HOW AND WHY DID YOU DECIDED TO LAUNCH THE BRAND TOGETHER ?
We met in Milian when we both lived and studied. After our studies, I moved and worked in Paris, and Ines moved to London, and then we started playing with the idea of creating a brand. We had experiences working with other designers, we knew that for what we wanted to do we had to develop a more sophisticated vision, and understand what we wanted to do, takes time. So we really started slow. Our first collection we didn't present commercially as it was created to display the brand's DNA and lay the foundation for us to go up from.
In our second collection, we decided to present it commercially and were fortunate to have been selected for the LVMH prize that season as well. It was very nice exposure for us and allowed us to approach the brand more as a full time business. We then made the decision to move to Ines's hometown in Portugal, where we produce everything locally. Slowly evolving, developing and adapting as we continue to grow.
EXCEPT HIM, WHO ARE YOUR STYLE INSPIRATIONS ?
The movie Donnie Brasco with Johnny Depp. The American Friend, the idea of an American living in Berlin, selling art. Those kinds of movies were very influential during our collections.
We are inspired more by cinema characters, than real-life characters. We like that feeling of fantasy and being able to develop a character ourselves for each of our collections.
ARTISTS THAT INSPIRED YOU THE MOST ?
Wong Kar Wai, he is Director, his films are experimental, very inspirational for us this season. Dreams blending with reality, it was a big reference for us.
INES IS FROM PORTUGAL AND YOU FROM USA - WHICH PLACES INSPIRE YOU THE MOST ? DO YOU HAVE A SPECIFIC PLACE IN COMMON ?
Our common place is somewhere in the middle combining both of our heritage, I am American, Inês Portuguese so you could say we meet somehwere in the middle of the ocean, a junction that sees America meet Europe.
The Portuguese cultural influence has grown more in our work, we are working closely with artisans, using classic weaving techniques for our knitwear. The best of the classic artisanal techniques. it has been very interesting for us to be able to live in Portugal, be close to our manufacturers, and have a nice collaborative relationship with them as well.
FOR YOU, WHAT ARE THE MAIN STAKES AND CHALLENGES FOR YOUNG CREATIVES ?
There are a lot of challenges. We would say, the current state of isolation is definitely being quite challenging for us right now for sure. We miss connecting with the industry, attending meetings, shows, and seeing people's reactions to our collections, it is definitely a side of the industry that I am sure all of us are missing.
IF YOU COULD LIVE IN ANY ERA, WHICH ONE WOULD IT BE AND WHY?
Ines: Seventies for sure
Reid: Seventies, or being able to move from the current time to the Seventies as well. We appreciate the rebelliousness of that era but are feeling many similarities to the current time which is very exciting!