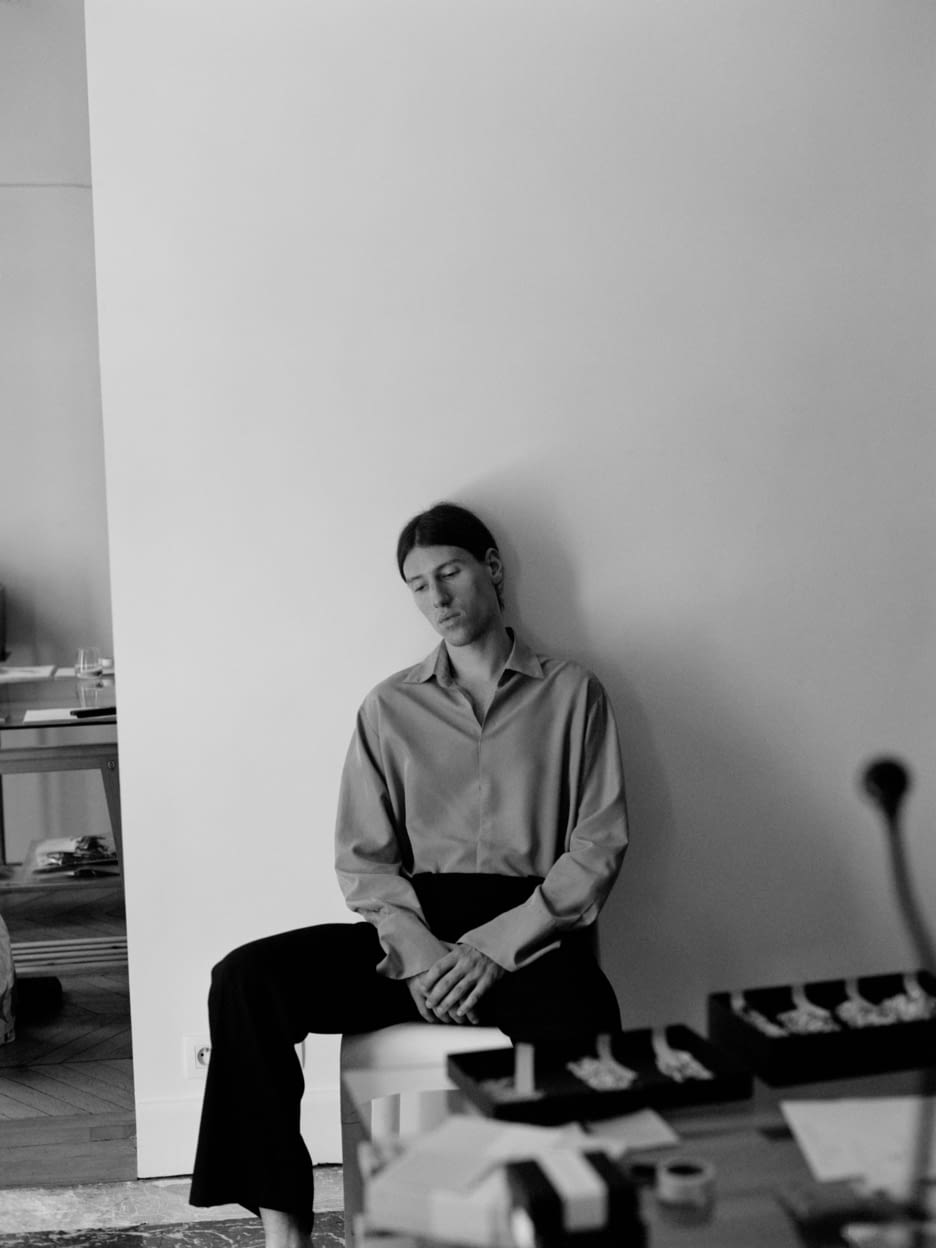 22/06/2020
-
Margaux Warin
Ludovic de Saint Sernin created his eponymous brand in 2017. Genderless, with a peculiar attention to craftsmanship and sustainability, the brand is renowned for its sensuality and attention to the body. In 2018, the brand was awarded the ANDAM Creative Label Prize and became part of the official schedule of Paris Fashion Week one year ago. For his Fall/Winter 2020 collection, Ludovic worked on a collection called "Heartbreak', shown in Palais de Tokyo and unveiling very personal feelings through his clothing. During the lockdown, Ludovic took the time to talk with us about the launch of its first swimwear collection based on his signature: the eyelet brief. Launched last week, the collection is an ode to travelling, as each swimsuit colour represents a destination Ludovic loves. As the notion of community is inherent to the brand, the designer made the statement to give back to it. 10% of the profits from the swimwear line will go to Le Refuge, an organization that supports young LGBTQA+ people. Another 10% will go to G.L.I.T.S, a global organization to help LGBTQA+ people. Solidarity, sustainability, and community: three strong notions that are serving Ludovic's creativity and sensitivity.
---
YOUR MAIN INSPIRATIONS FOR THIS COLLECTION?
It was a very personal collection for me because it is inspired by my break up.I was with someone for a bit less than 5 years, we broke up, and the idea was to express that separation through my collection. I wanted to interpret the collection as a singer who composes an album and put all his feelings in it. It hasn't been done in the past, and I think it's important for people in my community to be able to identify themselves. It was also a reflection on the idea that when you have a luxury brand, you have to release a collection no matter what happens to you, it was a reminder that the designer is also a human being.
YOUR FAVORITE LOOK FROM THE COLLECTION?
The broken heart look with a ceramic piece that looks metallic. The idea was to have this piece at the heart of the collection, it is look 16. Fernando Lindez wore this look, he already walked for me and he has a tattoo with a broken heart on his shoulder, it was meant to be.
DID YOU HAVE A SPECIAL "MUSE" IN MIND WHILE WORKING ON THE COLLECTION?
No, but there are many references to Christian Bale in American Psycho. The idea of the perfect man who takes care of himself, and does everything to stand at the maximum of his beauty. The idea of the suit and casual look. I think he is a very beautiful man who speaks very well to my aesthetic.
YOU ARE LAUNCHING A SWIMWEAR LINE FOR SUMMER 20. COULD YOU PLEASE TELL US MORE ABOUT IT?
I tried to launch a swimwear collection for 2019, based on our signature, the eyelet. Swimwear is very technical, you need to have the right material, the right tools, and we were not prepared enough at that time. We put it on the website and we had a significant waiting list, so we said let's do it. We released the swimwear collection with 7 colors and we shot it with Thomas Giddings, who previously shot our first collection. In the meantime, the virus came up. And most of the houses will do digital shows, lookbook etc… I got even closer to my community during the confinement. My mission as a brand is to offer a notion of escapism, to make you dream. Meanwhile, people just want to know if they will be able to go on holiday, and so bathing suit is great for us as the piece will be immediately available. It is refreshing, it is new, it makes you want to go on a holiday. The 7 colors represents a different destination where I personally have been or I want to go. White: Mykonos, Beige: Marrakech, Pink: Ibiza, Red: Palm Springs, Turquoise: Capri, Navy blue: Côte d´Azur, Black: Fire Island. The idea was really to inspire happiness and the urge of travelling.
ON WHICH ENVIRONMENTAL AND HUMAN STAKES WOULD YOU LIKE TO FOCUS FOR THE FUTURE OF YOUR BRAND?
Giving 10% of the profit of swimwear sales to Le Refuge is a first move towards something that is important for me. I have a huge gay community that has been supporting me from the start, and especially during the confinement. They helped me get over anxiety, as many shops were canceling orders etc. We decided to put all our stock online, people were buying. I am still a young brand and I wanted to start giving back to my community by supporting the gays, the trans people, etc., that were rejected by their families. "Le Refuge" speaks to me as they do an incredible job. It will speak to my generation because they manage to translate their actions on Instagram: we really see their work, what they do to help, and we understand pretty well their action through their account, which is key nowadays. They have moving videos on Instagram, that tell their own stories, which is very touching and authentic. I wanted to feel involved in something sincere and brutally honest. After the deconfinement, I've decided to go to Montpellier to see their first house.
WHICH ARTISTS INSPIRE YOU THE MOST?
Axel Vervoodt, he is an architect and interior designer. He creates lifestyles, beautiful houses. These days, I'm really into architecture because it really has an influence on the way you live and work.
Also, today I'm listening to "Chromatica", the new album of Lady Gaga.
THE FILM THAT SPEAKS THE MOST TO YOUR AESTHETIC?
I love Basic Instinct: the costumes, the light, the houses, Hollywood with this 90s light… it's really beautiful.
THE PLACE THAT ALWAYS INSPIRES YOU?
California
IF YOU COULD LIVE IN ANY ERA, WHEN WOULD YOU CHOOSE AND WHY?
I would choose to stay in the present., I love to live in the present moment.