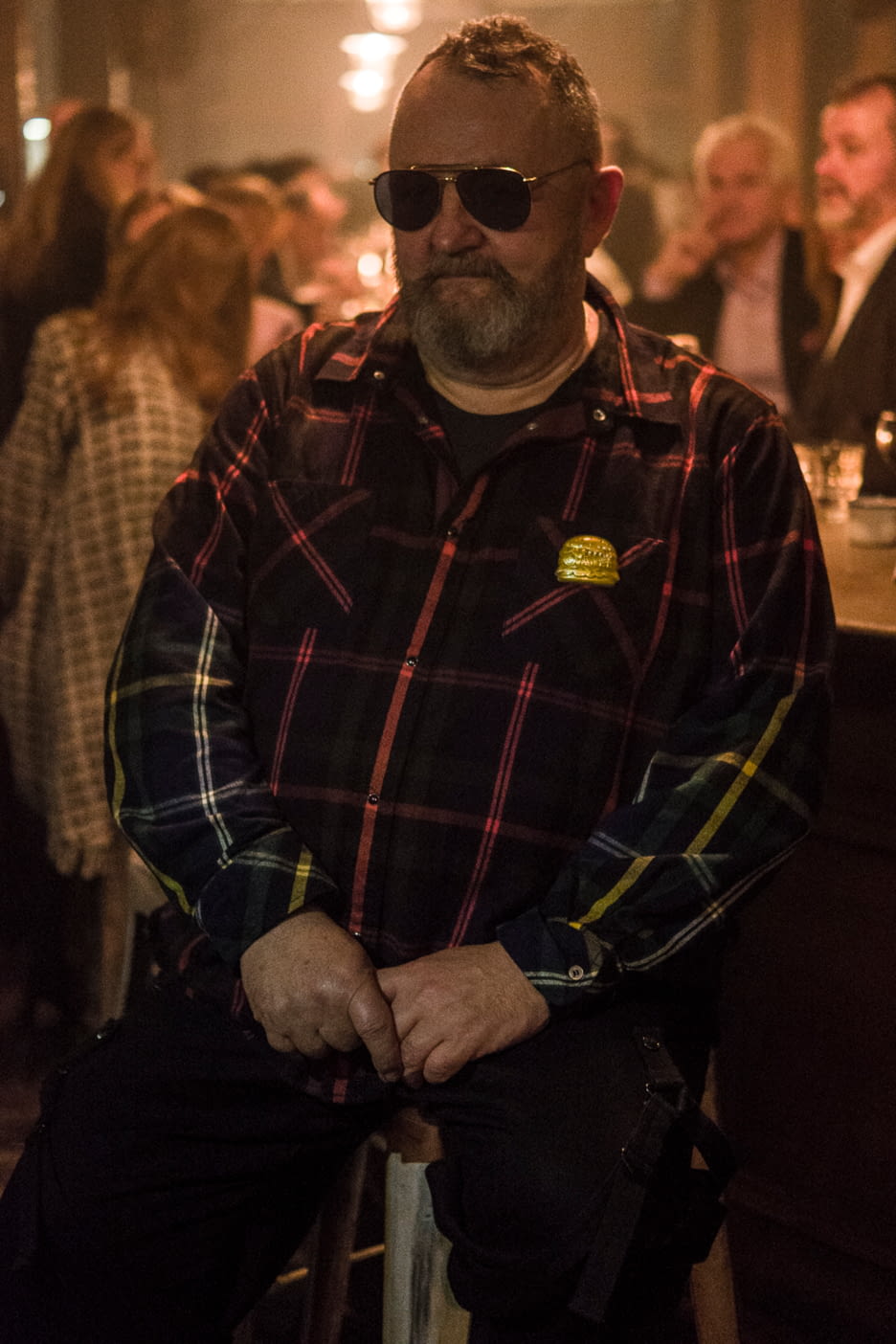 Courtesy of Julien Boudet @Bleumode
06/02/2018 - Margaux Warin
His profession is sound illustrator, but he might as well be called the ear of fashion. Michel Gaubert started his career as a DJ at the Parisian nightclub Palace. Over that period, he meets Karl Lagerfeld, who asks him to create the music for the Chanel show in 1990, marking the start of a 30-year collaboration. Since then, Michel Gaubert has been arranging the sound for numerous shows every fashion week, in all cities. Michel unites sound and silhouette, the ear and the eye. Self-taught, he has shaken up the runway's world of sound by mixing genres: his soundtracks are made up of iconic songs, as well as independent music and even guilty pleasures. He sees music as a way of expression enveloping the whole process of the show. Though he has been an essential presence in the fashion world for decades, he was discovered by the wider public through his eclectic
Instagram account
filled with fun and unusual pictures . His collaboration with Karl Lagerfeld is still fruitful and rewarding. In Hamburg for the Chanel Métiers d'art show, for which he has been brainstorming about since last September, he speaks to us about Chanel, of which he is an inherent figure.
---
What is your greatest source of inspiration?
It's lots of things. Journeys abroad, films, things I find on the internet. It can be conversations, situations...Things that mix together.
How much time does it take you to find the right soundtrack for a show?
It's a daily exercise. I often listen to music. Sometimes I don't listen to music seriously for two or three days, then I actually listen. It's a machine you have to maintain. It's quite difficult to explain. Regarding Chanel, I'd known for a while that it was going to take place in Hamburg which meant I needed something special, and I had something in mind from the start. I thought of Oliver Coates, a musician, and Radiohead's arranger, who is also a conductor. The soundtrack for this show is a blend of electronic and symphonic music, something quite distinctive, I like the twist.
Do you work in a different way for the Métiers d'art show?
Yes. Métiers d'art, Cruise, and Couture shows are different. Métiers d'art is a more luxurious ready-to-wear, associated to a town, a specific place, so it is not like showing at the Grand Palais. Last year, at the Ritz in Paris, the music was from the 1930s. The previous year, in Salzburg, it was Hotel Budapest, electronic music. In Cuba it was special, the setting was the music. I think Cuba is one of my best work memories.
As it happens, you've been working for Chanel for a long time, has there been a show which has particularly moved you?
Many, especially Cuba. I was seduced, I thought the people were fantastic, it was moving. While finding musicians we listened to concerts every day. On the first day, all the percussionists who played at the end of the show played an hour-and-a-half-long concert in the gardens as a demo, because it was a casting and they didn't know if we were going to cast them. We kept them for the end of the show, they were amazing. And the party was also incredible.
Why do you think music is so important for clothing?
Clothing is important for music as well. Since being conscious of music, I've believed that there is always a link between both. I've always been fascinated by band outfits, it was part of their image, their identity. I loved David Bowie for his clothes and his music, the same for Patti Smith. It's the same in cinema. For example, Jean-Luc Godard created a very precise aesthetic, the sound is very precise and for me these things work together. Then in the 80s, bands like Duran Duran used fashion to highlight their music.
How did you enter such a youthful environment? Is it because of culture, being inspired by everything?
Culture is something we learn ourselves. It's what we learn at school, and there is the culture we create, which is curiosity. Curiosity is an attractive flaw in my opinion. I've never thought "I want to do that or meet this person", it happened naturally.
If you could choose one song which represents Chanel, which would you choose?
That's a difficult question.
Three songs?
It's about feeling with Chanel. The soundtrack to one of the films for the Chanel N°5 perfume was Nina Simone's song "My Baby Just Cares For Me". When I hear that song, I can still picture Carole Bouquet. It's different for shows. Chanel is many things.
Your first musical love affair?
The Rolling Stones, "Jumping Jack Flash".
Your favourite song?
There are too many of them. I have a Top 100, it depends on my mood.
What do you listen to when travelling?
Many factors come into account: where I'm going, do I have time to listen to a whole album, my mood. I don't like listening to music on short-haul flights, only on long-haul ones.
Is there a band or an artist you particularly like at the moment?
I listened to Kelela's album and went to see her live on Friday.
I like Oliver Coates, who is playing tomorrow.
Your favourite piece by Oliver Coates?
"Bambi 2046". And another called "Charlev".
Young people love you, your Instagram page, your catwalk shows, your influences...
My Instagram page is a bit like music, it varies enormously. Although at the moment I'm sticking to the Chanel theme.
Has digital technology helped your career?
I use Instagram to show that I know about more than just music. It shows different aspects of my personality. You can interpret it however you want, but I have fun with it. Now people recognize me in the street which is quite fun. At first I didn't realise that it was because of Instagram. (laughter)
Today, people like you and Sophie Fontanel, who are very important in the fashion world, have been made more accessible to others through Instagram...
Yes, that's true. Sophie is more out there than me, she is a published writer, whereas I don't sell my music.
Would you be interested in doing that?
No, I've made compilations etc for Colette. I create for shows. I'm not really sure how people perceive me.