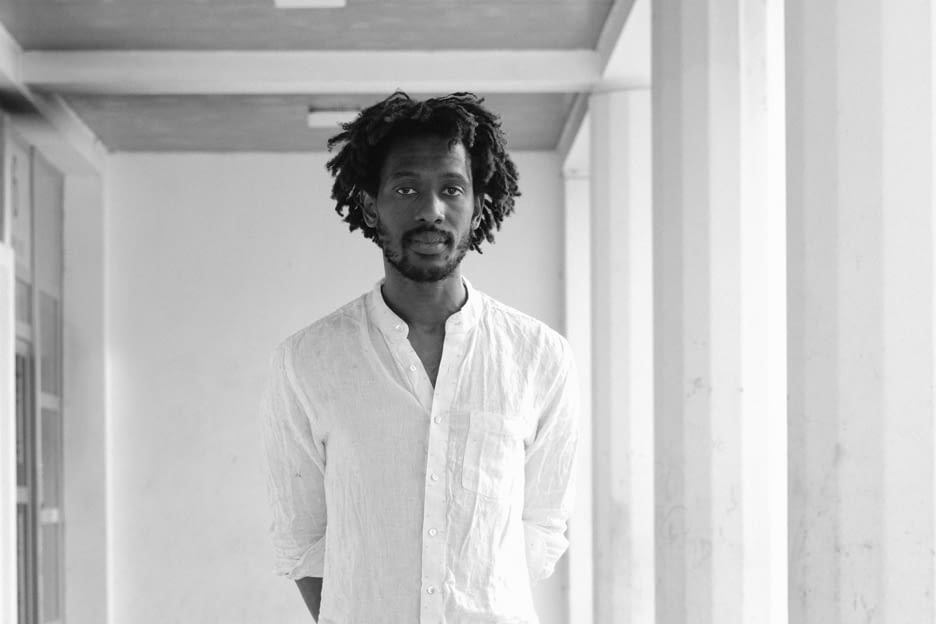 26/10/2020
-
Margaux Warin
For Mossi Traoré, fashion is inherent to the notion of sharing and transmission, values which are at the core of his work and social project. Born from Malian parents and raised in Villiers sur Marnes, his dream was to become a football player. Later on, he discovered fashion and developed a passion for the work of Madame Grès. On top of his formation at the school Mod'Art, Mossi Traoré learnt how to make clothes with an indian seamstress and an african maker. In 2015, he founded his own school "Les Ateliers d'Alix", a name chosen to pay homage to Madame Grès, to teach Haute Couture techniques and savoir-faire to young people. One year later, he also created a project to help the insertion of young people in the fashion industry.
In 2017, Mossi Traoré launched his own eponymous brand
"Mossi"
. Dedicated to craftsmanship and inspired by art, each collection is an illustration of savoir-faire. Winner of the Pierre Bergé Prize in 2020, he presented his last collection as an artistic performance with dancers, one of his biggest inspirations. Part of the official schedule of Paris Fashion Week, the brand is also part of the New Now Program. While the fashion industry increasingly tends to become more responsible,
Mossi Traoré
is a true inspiration of ethics and creativity.
---
Your SS21 collection in 3 words:
Movement, asymmetry, fluidity, lightness.
I really like playing with the layering, the materials, or the look itself.

Your favorite look?
A white crepe dress with a set of pleat bands. I really love this piece because it is very inspired by the work of Korean artist Lee Bul, whom I adore.

Your main sources of inspiration for this collection?
There is always that singular creativity around Lee Bul's artworks that echos my DNA. There is the collaboration with the calligrapher Hassan Massoudy who wrote my name in calligraphy that we used to create patterns and linings. The main inspiration was around the act of movement. We wanted light, fluid materials. The calligraphy, asymmetry, movement, I have built my path of inspiration around these words.


Is it this notion of movement that led you to present your collection as an artistic performance?
The dancers have always been ambassadors of my work and are very good accomplices in presenting it. Recently, we did a photoshoot with Marie Agnès Gillot at the Bourdelle Museum, I also had exhibited with her at the Carrousel du Louvre.
Through the performance, we wanted to show the movement in different ways, for example, the social movements that we meet today in the streets with dancers from the Opera who danced on a very engaged hip-hop music.
I also wanted to tell the movement through calligraphy because the art of Hassan Massoudy is described by the movements of his hand and his fingers. That particular way of expression on paper is quite an art.
The Agafay desert is also an inspiration for this collection, in particular the movements of the grains of sand in the desert wind.

For you, fashion is inseparable from art?
My work can be summed up in 4 words: art, fashion, world, crafts. From these 4 words, I created my paths. I've always seen art as a tree with many branches, I tell myself that fashion is the branch I have clung to it but I take pleasure in clinging to other branches every now and then.

Which artists inspire you the most?
Lee Bul is my favorite artist, I also like calligrapher Hassan Massoudy, textile sculptor Simone Pheulpin, and Fred Allard. In the dance field, I really appreciate Marie Agnès Gillot. I love Indian cinema, Bollywood actors. I really like Japanese manga, it inspires me a lot. Madame Grès and Yohji Yamamoto, the great artists and artisans of the fashion industry who are great sources of inspiration for me.


In 2015, you founded an Haute Couture school, can you explain the project to us?
In the beginning, the project was a desire to pay homage to Madame Grès because I found her work and her story incredible. I had this project that inspired me, that I wanted to share, to transmit. I realized that school allows me to train the sewing talents of tomorrow with whom I could later work.
I wanted to create a school that is solely dedicated to learning Haute Couture techniques because it is a skill that is, unfortunately, being lost, it is not taught in schools. It is a project of passion that has real utility.
The goal is to train Haute Couture technicians. At the same time, we are a training organization in the fashion professions so it goes from art professions to visual communication and production professions, we do workshops in photography, pleating, corsetry ...
There is also continuing education, with tailor-made programs and evening and Saturday sewing classes.

Your advice for the younger generation?
I want to create in order to share. I believe that you can have a good impact without it being a facade communication, but with a real utility. I enjoy making a profit as much as creating jobs. I am a dreamer, I like challenges, I think that the young people of today should have fun, not put pressure on themselves and take fashion as an artistic, professional adventure, accept each step, each test. I have chosen a path, I don't know where it will take me but I am happy that I chose this path.

A place that inspires you?
An inspiring place is hard, inspiring places are my neighborhood, the streets in India, the carrousel du Louvre at night when it is empty, when I am in my workshop with my seamstresses. Inspiration represents every moment in time, it's an emotion that suddenly arises. I can be inspired at any place, I would talk more about instants, emotions, and those moments happening at any time.

If you could live in another era, which would it be and why?
In the era of Madame Grès because I would have loved working with her. I would have liked to learn from her.
In terms of fashion, I would have liked to experience the arrival of Japanese designers in Paris: Issey Miyake, Yohji Yamamoto, Comme des Garçons.
I am from the 90s, I loved my childhood.