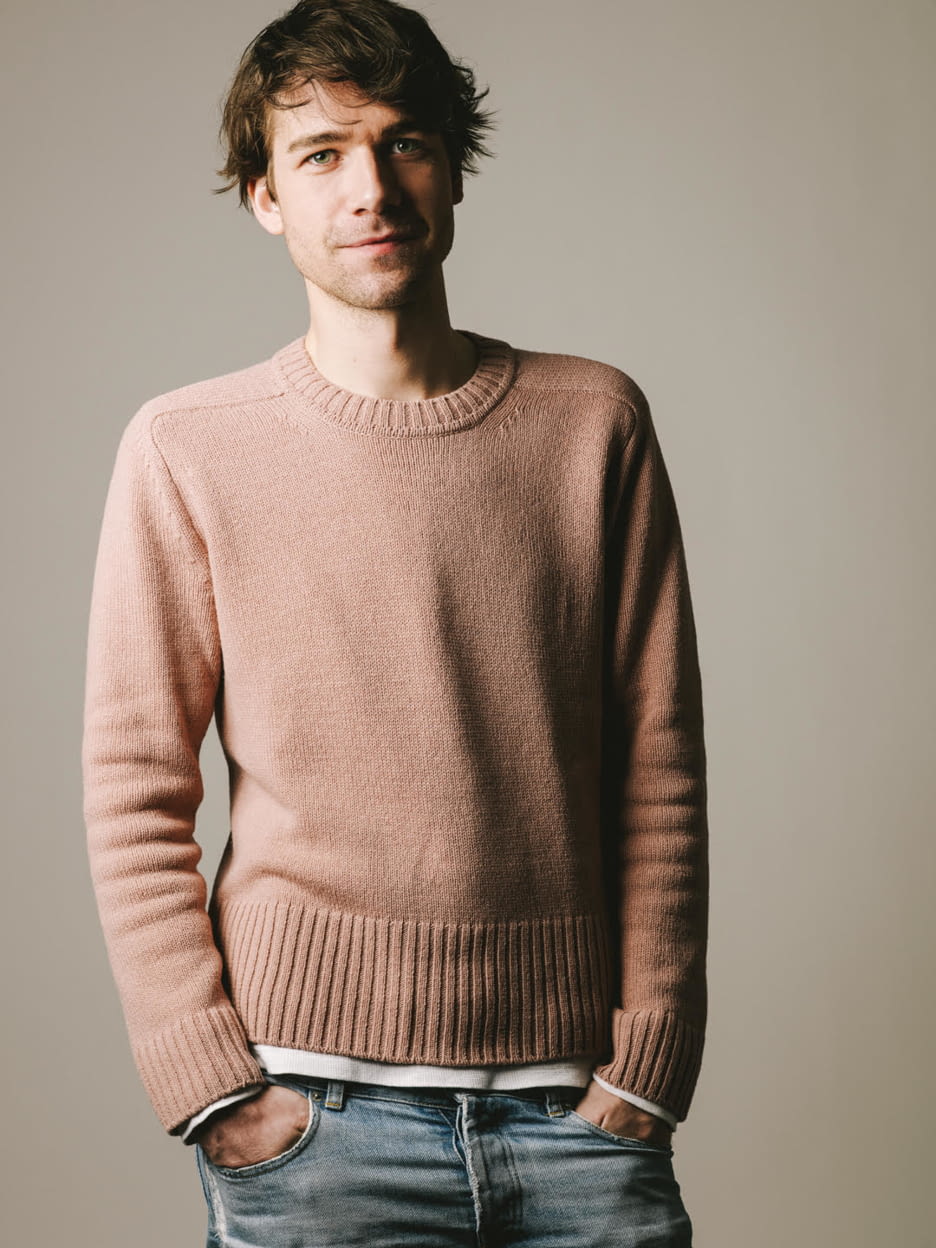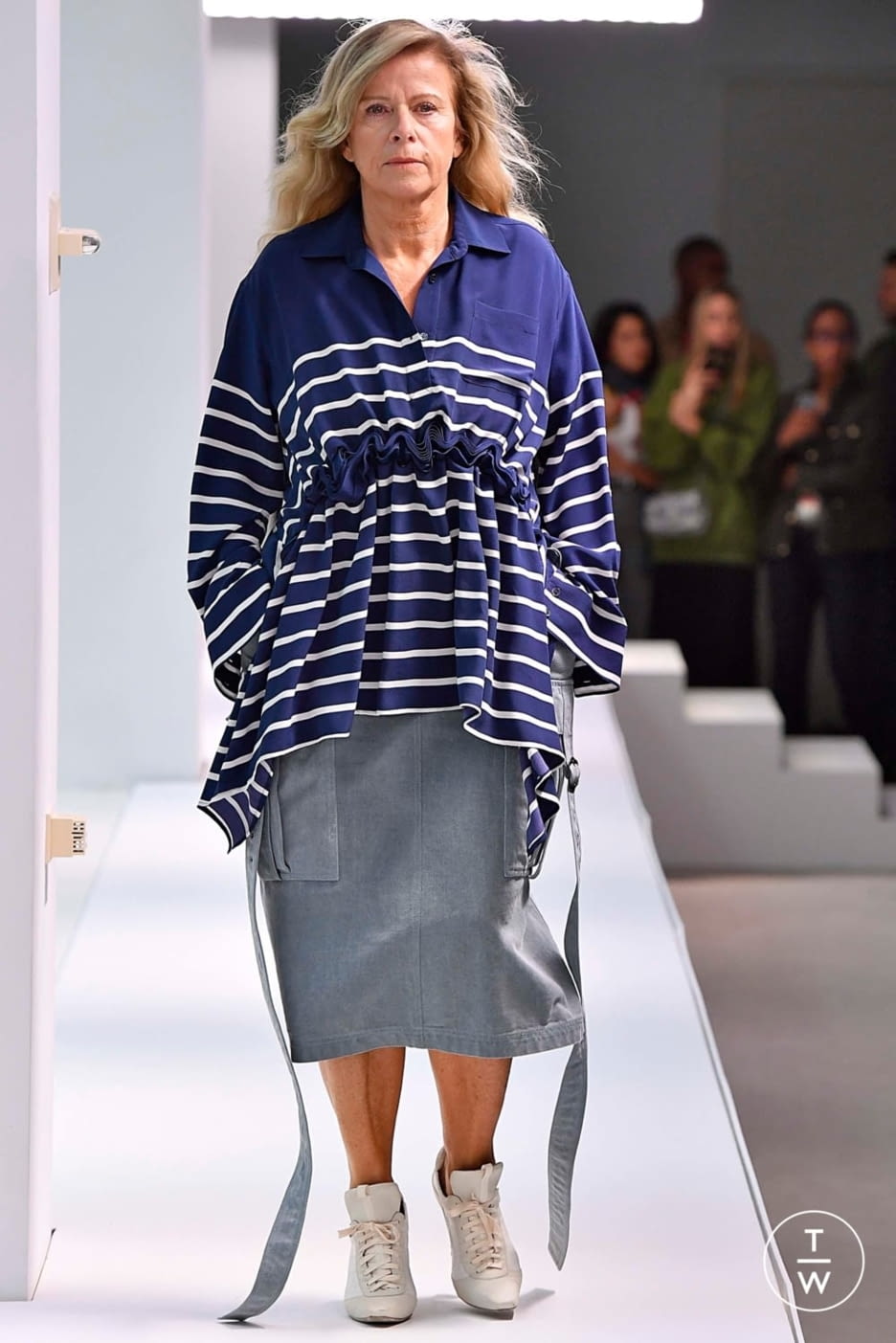 Sander Lak's mother walking for the Spring/Summer 2019 show.
28/01/2019 - Margaux Warin
Sies Marjan or the adventure of colour, this is how we could describe Sander Lak's brand, founded in 2016. At only 35 years, he launched his own label after working as designer in womenswear for Balmain and Dries Van Noten amongst others. After the first fashion show in February 2016, the brand stands out as the figurehead among the young talents of New York's fashion week. The designer has a radical vision and offers silhouettes in total monochrome looks with pop and vibrant tones or polychrome dégradé on re-worked fabrics, like whirlwinds. For his sixth show, the Spring/Summer 2019 collection, Sander Lak wanted to reveal a more personal and intimate side. His mother and members of his team walked the show. The collection was an echo to his life, and also a tribute to his father through the exploration of a new pattern: marine stripes. We met him to talk about his vision and his methods of work, which reflect his innovative and radical spirit.
---
Your last Spring/Summer 2019 collection in three words:
Home, friends and family
What were your main inspirations for this collection?
It was family, it was a lot about my dad, about my upbringing, my current home in New York. It was about really trying to express as much of myself in the work that I do. I was really considering the emptiness of what fashion can be sometimes. More clothes, more clothes, more clothes… Yes I love making clothes but not everything has meaning. I think the show is adding an other layer to it, that's why I decided to go personal, as much personal as it can be. It's the most personal work that I've done.
Which artist(s) inspire you the most?
It's funny I don't really work like that, I don't think about artists or musicians. I don't do mood boards, I do referencing but it's never like I start from an artist… It's much more internal, what's feel right. I don't have an answer for that to be honest even if I love a lot of artists but it's not related to my work. I'm also a bit saturated, there's too many images, artists, tv shoes, movies, it's like being in a candy store all day long.
What is your starting point when you start working on a new collection?
Colour. Always colour.
You are hand making all your colours and the brand is known for its bold use of colours, why is this aspect of clothing so important to you?
It wasn't calculated like that so we just really went into it. I have a feeling for colours, that I always have had, even when I was kid I had a sensibility to it. I never really thought "Oh it's gonna be the thing", it just kind of organically went there. What I like about starting with colours is that you don't have any reference. You have a complete abstract reference, the colours can be anything to anyone. It really opens up the way that you work, there is no theme, there is no muse, no restrictions. There is just colours, and then from colours you go to materials and from materials you go to garments.
Do you have a favourite colour?
No, it's like asking somebody with kids "who is your favourite child?". I don't have a favourite, I have moments when I'm really into one colour and when I cheat on this colour with an other one (laughs). But there are definitely colours that I like and colours that I don't like. For a long time, it used to be pink, but now I've exhausted myself in using pink, but I still love it, it's like my first wife but I'm sort of having a mistress on a side (laughs)
You've been working as a designer for several fashion houses before. How did you decide do launch your own brand ?
I think it was time. I didn't wanted to wait much longer. I felt if I continue working for people, that's what I'm gonna keep doing. Three years ago, I felt it has to be now, so I just did it. I didn't really see it as a risk, I've always moved from place to place. When we did it, it was immediately success, it felt right since the beginning. I always trust my instinct.
Why did you choose Sies Marjan as a brand name?
Sies is my father's first name and Marjan is my mother's first name. I didn't want it to be my name on it. It's a team, it's not just one person even if I give the direction. But I wanted it to be personal, linked to me in a personal way. I like the way that it looks, it's ambiguous, I can hide behind it. A lot of people don't know that is me. I don't care about fame, I just want to make clothes.
Social media is nowadays a determinant factor for fashion industry, and you are not using it. Why did you choose to stay "off the grid" ?
We have a Sies Marjan account. From a professional point of view, I can deal with Instagram but from a personal, I don't want to expose myself in that way. I understand that is interesting for people, but I need to stay focus. I also like the fact that I can go somewhere and nobody knows that I'm there, I think it's really liberating. It's not that I hate it but it's just not for me. I love my anonymous life, that I'm in control of it.
If you could live in any era, when would you choose and why?
I love today even thought today is rough and hard, I really love living now, I'm not nostalgic. I'm really excited about the future, I don't wanna go back. I think today is amazing.