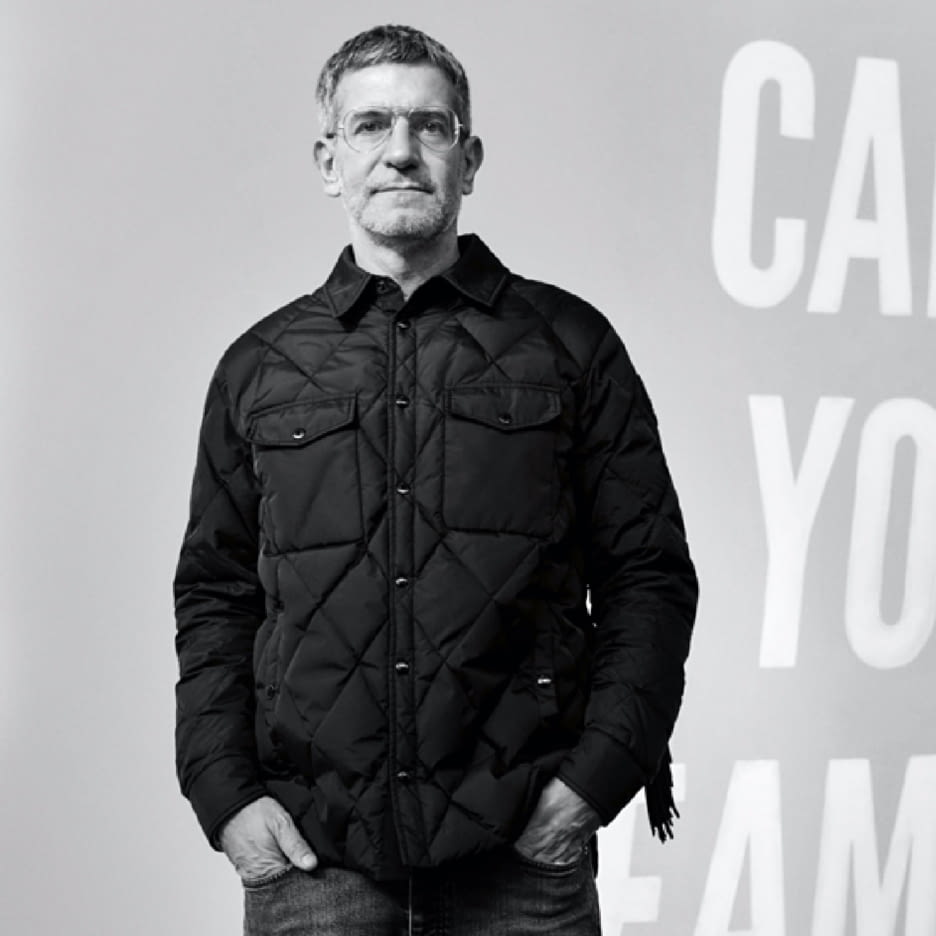 12/03/2020
-
Margaux Warin
Last week, Sergio Zambon introduced the latest 2 Moncler 1952 capsule for Spring/Summer 2020 in collaboration with Angelo Baque from Awake NY.
Both brands are renowned for their rich universes and inspirations: the iconic puffer vest from Moncler, and the New York City outerwear style from Awake NY. A puffer vest with a juxtaposition of both logos is the key piece from the collection, launched in Silencio in partnership with Mytheresa during the Paris Fashion week.
In addition, during Milan Fashion week, Sergio Zambon unveiled his latest menswear collection for
2 Moncler 1952
. Strongly inspired by Los Angeles and the city's energy, the pieces evoke both a vintage, and youthful vibe.
Multitasker and full of various inspirations, Sergio Zambon was born in Egypt and studied fashion in Italy, before working several years for Fendi and then Acne Studios as Head of Menswear.
Responsible of 2 Moncler 1952 Menswear collections, we met Zambon to talk about his collections, collaborations and source of inspiration.
---
Your last Fall/ Winter 2020 2 Moncler 1952 collection in three words:
Collaboration with LA, layered, pop.
What were the main inspirations for this collection ?
To me, Los Angeles is the most inspiring city, it's a new cultural center in the USA.
For the installation of the collection, the references were Tom Wesselmann and Charles Ray for the hyper realistic sculptures, his gigantic women from the seventies, eighties. There was giant boards from Los Angeles too.
I was also inspired by the idea of layering - there is sixties, nineties, sport silhouettes… About anything that goes about Los Angeles, but all connected to the Moncler world.
I like the cheerful, happy effect on people of the installation, they were laughing, the collection and installation really express fun.
Your favourite look from the collection?
The look 6 with puffer jacket, baseball, a large chinos. I love the boots in this seventies colour. It's kind of a movie director look on set. II also love look 3 with a tapestry duvet with a kind of couture sixties Russian hat. It's kind of feminine.
For Spring/Summer 2020, 2 Moncler 1952 is launching a collection in collaboration with Awake NY. How and why did you decide to collaborate with Angelo Baque ?
There is a shop near my house in Milan which have a very good selection, I discovered Awake NY there. I really liked the t-shirt with Michelle Obama in high school. I have to feel that something is interesting, unique, real and I felt that. I talked with and we decided to go on. I proposed the project to Angelo Baque and we did it.
Your favourite look from the collaboration?
There are four pieces: the hoodie, the t-shirt, the hat, the vest.
Actually, all of the pieces can be genderless. I especially like the vest and the hoodie.
I truly believe in the concept of genderless. I noticed these last years that a lot of women are buying pieces from menswear.
How does collaborating with another designer is influencing your creative process ?
I propose to Angelo my idea, to be in a mutual ground. To me, the idea was to mix the iconic tee-shirts and hoodies from Awake and the iconic puffer vest from Moncler. Using the two brands together as teaser, with logo mania, we played with the logo. I wanted to keep it simple but very catchy.
Moncler Genius is a hybrid and unique project, including many designers around the same theme: to reinterpret the puffer - What is the biggest challenge associated to this project?
The duvet blue jacket of Moncler is a staple, is like a white tee-shirt or a "it bag", a piece people really know about. You have to reinvent a staple. For me that's the main challenge.
Regarding Moncler Genius, all the collaborations are very different, the re-interpretations have nothing in common. 2 Moncler 1952 is the fashion part of Moncler main line, my goal is to make the update image of Moncler main collection.
What do you think are the main stakes and challenges for fashion designers nowadays?
To be very clear in what they choose to do. There is a sea of opportunities but you have to have a very clear message.
Where is the last place you travelled to that inspired you?
Los Angeles of course. I've been ten days in LA two weeks ago for working on market research. I had the US premiere for a movie I did costume for the first time. I stayed for Frieze Art Fair too, it's a very good scene for contemporary art.
I did costume for the movie "Magari" by Ginevra Elkann, its her first movie, she used to work with Bertolucci. The plot is taking place in 1990. Three kids are going from Paris to Rome for Christmas. From their mother to their father, the parents are divorced, and something is happening. It's an intimate comedy with subtle humour on relation between kids and parents.
It was my first time, I really enjoyed it. It was very challenging.
The artists that inspire you the most?
In terms of music Muddy Monk, Frank Ocean
I really like pop art, from Andy Warhol to now. I really like Jonas Wood, and the sculptures of Shio Kusaka. In fashion, I always loved Yves Saint Laurent.
If you could live in any era, when would you choose and why?
I would like to be under now. I kind of like what I'm seeing.
Emotionally and in a romantic way, I would choose between sixties and seventies.