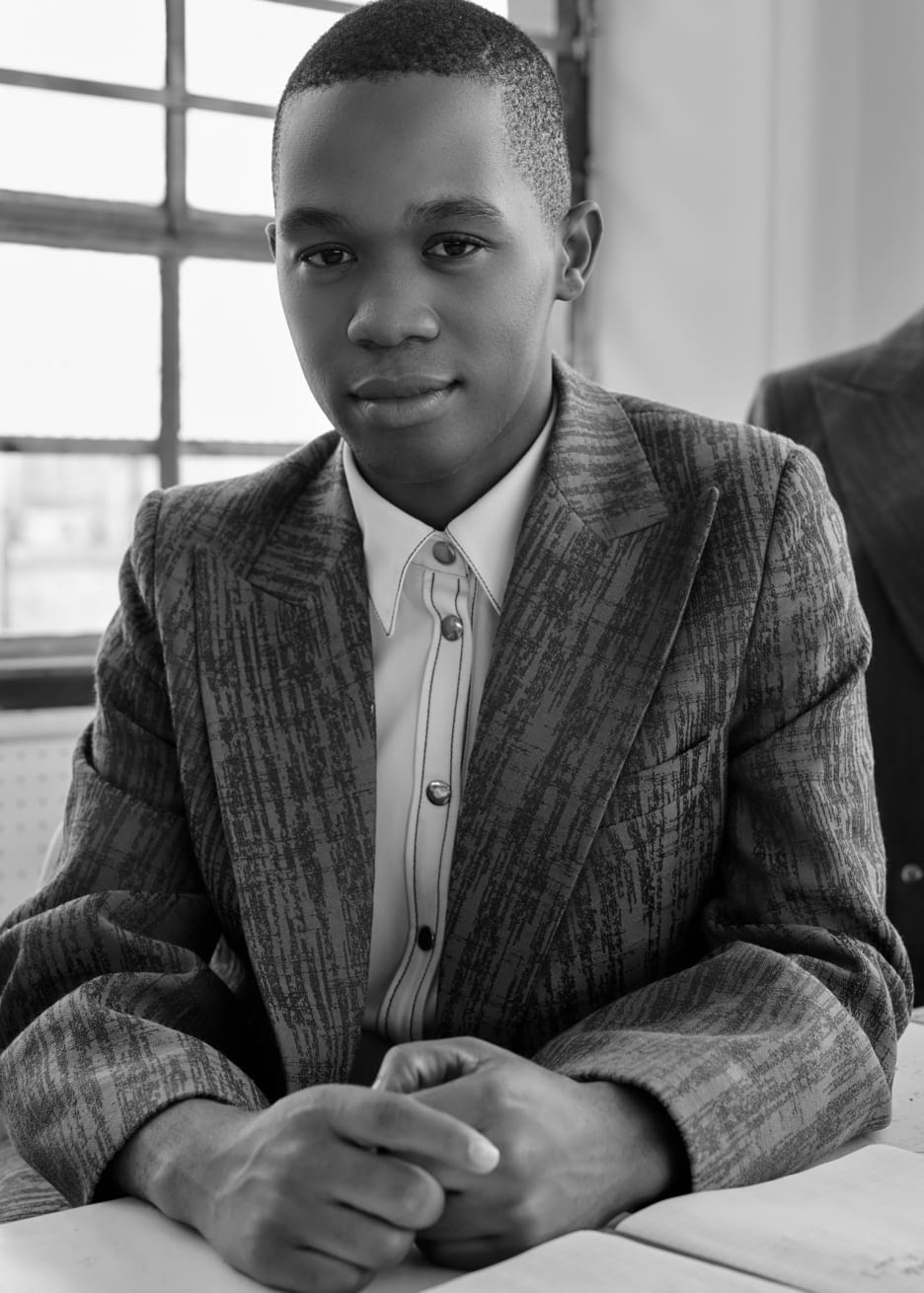 Thebe Magugu BW by Aart Verrips
25/01/2021
-
Margaux Warin
Several fashion brands tend to increasingly take to fashion to create multi-disciplinary projects and spread cultural awareness. The fashion brand
Thebe Magugu
is a perfect illustration of this, even if only 4 years old. Created in 2016 in Johannesburg, his hometown, Thebe Magugu imagined his namesake label as a luxury ready-to-wear brand which represents South African culture, history and identity. Winner of the LVMH Prize in 2019, he has since then joined the Paris Fashion Week's official schedule and is part of the Sphere program by la Fédération Française du Prêt-à-porter et de la mode. His first presentation in Palais de Tokyo featured his clothes on models with African masks as well as a photography exhibition about his native town, Ipopeng Ext, a township of Kimberley. In his second presentation, he launched his collection "Counter Intelligence" through a short film inspired by South-African espionage movies and books showing polka dot dress, sharp tailoring and fitted rib knit.
Delivering messages and spreading awareness about his country's culture and history on creative and desirable clothes soon became
Thebe Magugu's
trademark, and definitely made him a designer to follow closely
---
IF YOU COULD DEFINE THE SS21 COLLECTION IN 3 WORDS?
Hidden-In-Plain-Sight
Versatile
Cerebral
YOUR FAVORITE LOOK FROM THE COLLECTION ?
Look 4, which is a Bohemia-style pleated dress which looks like it has polka dots on it but it is actually finger prints of confessed female spy Olivia Foresythe, who Kindly scanned all her fingerprints and sent them to me to use. Its a style that best represents the collection and its intention.
WHAT WAS YOUR MAIN INSPIRATION FOR THIS COLLECTION?
This collection COUNTER INTELLIGENCE SS21 is based off a series of interviews I conducted with confessed, tried and detained female ex-spies, who worked either for the Apartheid government or defected to the other side, becoming double-agents in the process. I think we are all fascinated by espionage - what drives people to do it - and I was no exception. Its research started during lockdown, when I picked up a book titled "BETRAYAL: The secret lives of Apartheid Spies" by Jonathan Ancer - which took me down a rabbit hole. I contacted the author and, in addition, contacted the spies he spoke about in his book. I was very fortunate to have their keen participation, and one -who I can't name - is from my hometown!
YOU WON THE LVMH PRIZE IN 2019, IN WHAT WAYS HAS THE PRIZE HELPED YOU?
The prize has afforded me a visibility I couldn't have imagined had I not gotten the prize. It is why I am so incredibly grateful for it. Instead of doing everything myself, it afforded me the opportunity to expand my team and move into studios I can effectively work from.
YOU PRESENTED YOUR FIRST COLLECTION IN PARIS WITH A PHOTO EXHIBITION AND YOUR SECOND COLLECTION WITH A SHORT MOVIE. WHY IS IT SO IMPORTANT FOR YOU TO CREATE A CULTURAL INTERACTION WITH THE CLOTHES ?
I want my clothes to feel like more than clothes in that they provide an inherent sense of value - whether it's educational or providing relief or empowerment to the very people who make up the clothes.
YOU ARE DOCUMENTING A LOT ABOUT SOUTH AFRICA IN YOUR COLLECTION, BUT ALSO ON YOUR WEBSITE VIA YOUR ZINE "FACULTY PRESS" - CAN YOU TELL US MORE ABOUT THIS PROJECT ?
I actually ran a magazine I started in high-school called Little Black Book, which was a space where I could share all my thoughts around a broad range of subjects. It became so popular that it went on to be sold at other schools in my hometown. I have always loved publishing and the powerful platform it can act to educate and incite change, so Faculty Press is a continuation of that. Instead of it being about myself, Faculty Press is more about my context, featuring key people across music, art, photography, literature and film, who are doing a stellar job of representing a modern Africa
WHICH ARTISTS INSPIRE YOU THE MOST ?
Athi-Patra Ruga and Lady Skollie are two South African Artists who use their culture and heritage to tell exceptional stories, which both feel so specific to the individual but with so many other people able to relate.
WHAT ARE YOUR FAVOURITE BOOKS AND AUTHORS ?
My favourite author is the late Sello Duiker, who wrote the exceptional book "The Quiet Violence of Dreams", which was about his harrowing experience being a queer man in modern South Africa. Another book I am obsessed with right now is "A Fire like You" by poet and friend Uphile Chisala
THE PLACE THAT INSPIRES YOU THE MOST IN SOUTH AFRICA ?
My hometown Kimberley - I feel like I centre back to my core self whenever I can find the time to go home. My family still lives there.
IF YOU COULD LIVE IN ANOTHER ERA, WHICH ONE WOULD IT BE AND WHY?
Honestly, and practically speaking, this era is the only one I can imagine myself living in because it's a time where - albeit in extreme flux - is one where people of colour can be seen for who they really are, instead of just the colour of their skin as known from other eras. I can freely exist today and that is the most important thing to me - my sense of freedom, agency and autonomy.