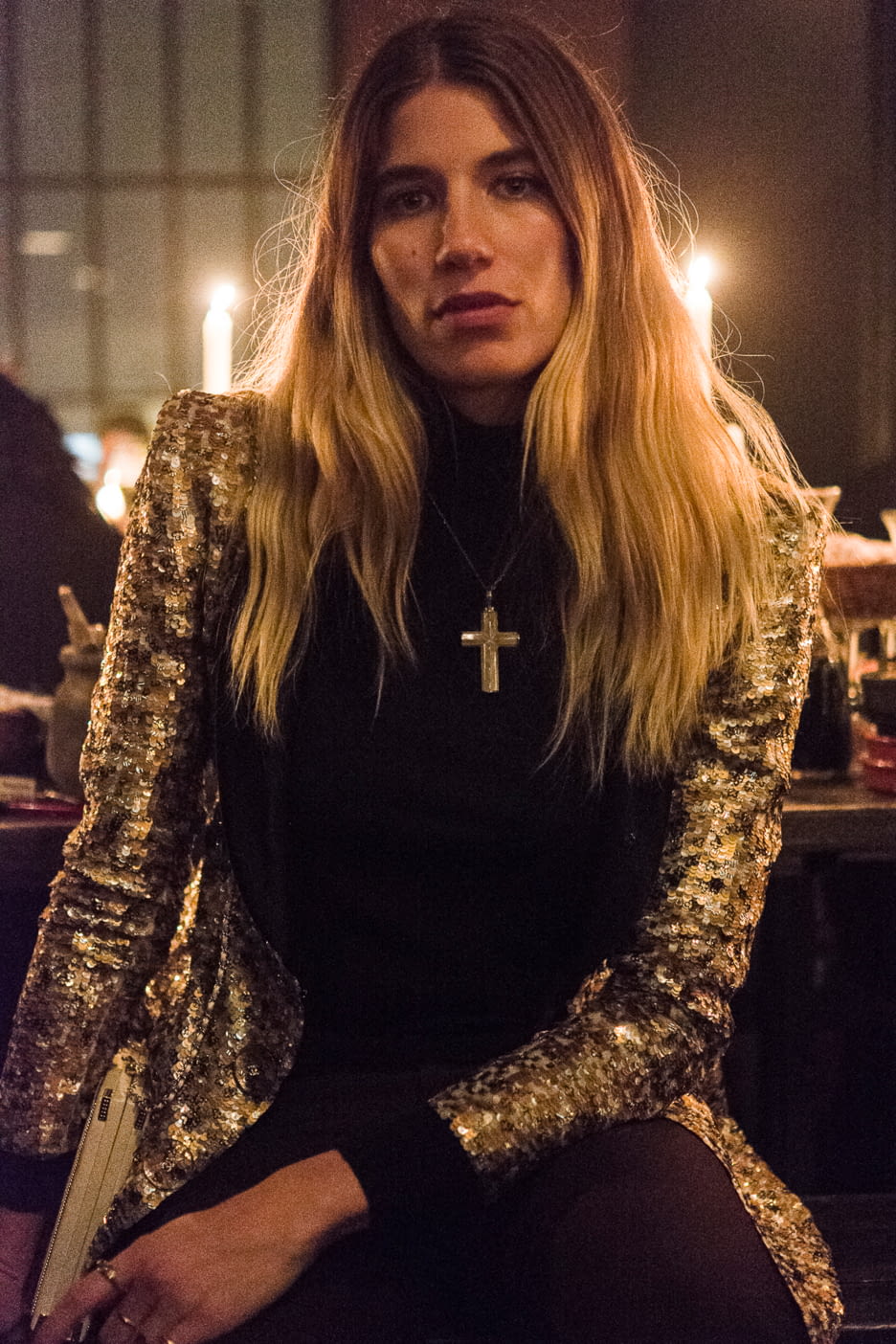 Courtesy of Julien Boudet @Bleumode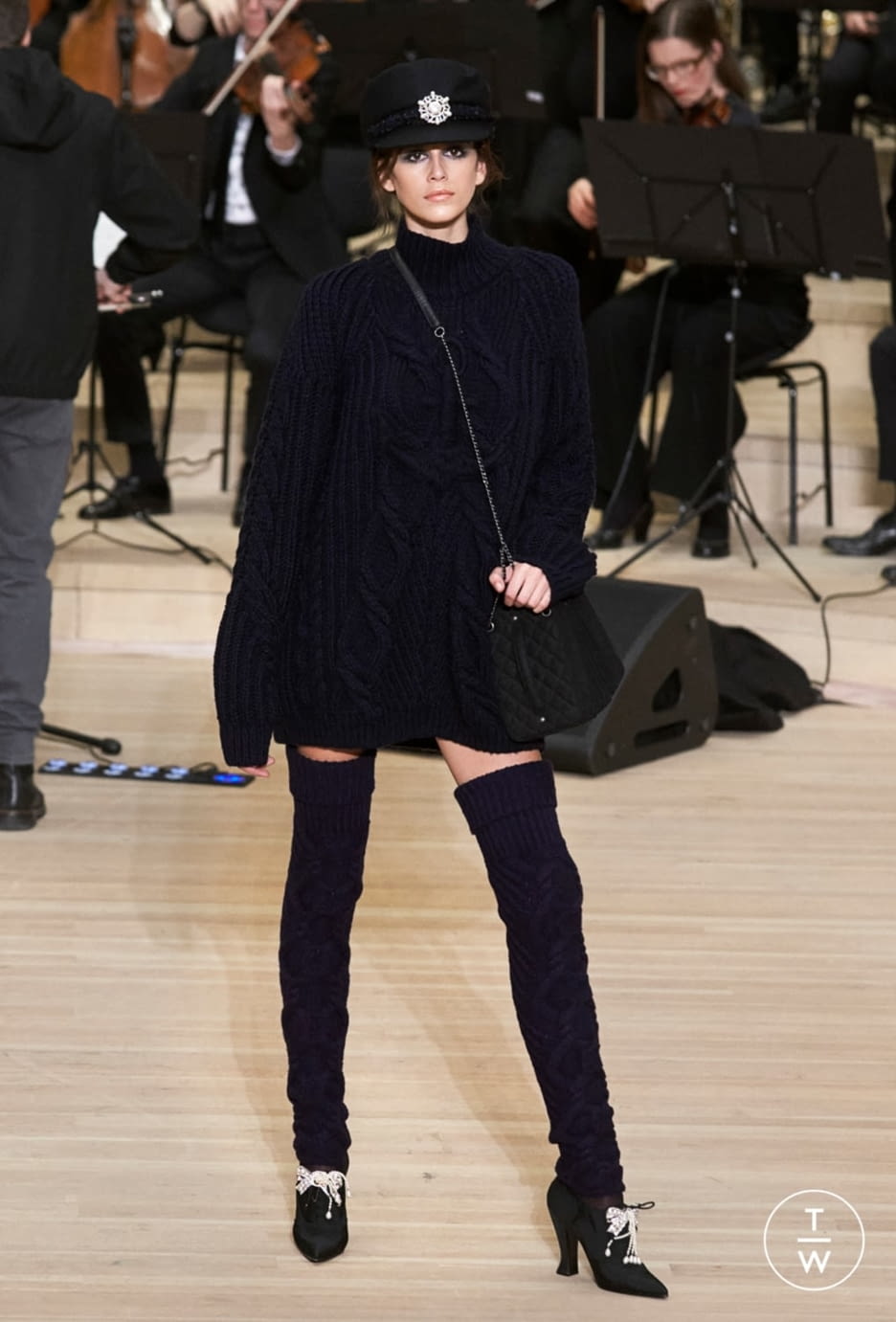 Chanel Métiers d'art - Look 4
06/02/2018 - Margaux Warin
Veronika Heilbrunner is without a doubt one of most photographed people for street style today. Born in Munich, she grew up in Germany and now lives in Berlin. Passionate about fashion, she began her career as a model, before joining the Harper's Bazaar Germany team. She quickly became a key figure in the fashion world thanks to her style, a skilled mix of smart and casual, masculine and feminine pieces. She knows how to expertly marry a feminine dress with trainers or timeless pieces with trendier accessories. In 2015 she co-founded the digital magazine hey woman! with Julia Knolle. The website, available in English and in German, touches on fashion, culture and beauty, and is a faithful representation of the worlds of the two founders. Created to embody the interests of the modern woman, the website contains many interviews by women, for women. In Hamburg, Veronika spoke to us about the Chanel Métiers d'art show and what it meant for her that it took place in Germany.
---
What struck you about the show? Did anything make you proud that Karl Lagerfeld took Chanel to Germany?
Everything! It was his first show in Germany which is crazy when you think about it, considering how long he's been at Chanel. For me, Chanel has always been quintessentially Hamburg. I cannot explain why. I grew up in the 80s, and in my head, Hamburg has always been this super chic, beautiful city, beautiful houses. I think it has lots of English and Scandinavian influences, of course because it's a big harbour city, and due to all its traditions. But then it also has an edge: the red-light district, the music, and it's quite wild, you can have a great night out in Hamburg. And the fish market! Friends go out clubbing and in the morning they go for a fish roll in the fish market, because it's open all the time. It's quite a cool place that you can head to.
What did you think of the show at the Elbe Philarmonie and the after party?
There was such a big contrast between both of them - The party was more traditional, I really loved that. It was such a huge place, with the dark light, the candles, the cobbled stones - I thought that was really cool, with the dark light... I was very happy there.
What three words come to mind when you think of Coco Chanel?
Knit, cool and straightforward
Métiers d'art is all about craftsmanship - do you think that people like you, who are younger, will be able to influence younger people to appreciate this craftsmanship
I'd like that. That's what I really hope to do. First of all I have to say that the Métiers d'art show is my favourite of all the shows he does in the year, because of the celebration of craftsmanship. I would really love to have a closer look at the collection. Two years ago I had the chance to go to a few of the ateliers, to visit them and ask questions, and see how it's all made. I love Chanel for that, that they buy all these traditional, family companies and give them a chance to survive, and then celebrate them in a show like that.
It's almost your mission to be a spokeswoman for Chanel and the Métiers d'art and encourage to younger generations to be respectful of this craftsmanship?
You need to have a little bit of money to be able to afford those navy blue cable knit jumpers, or the accordion bag, or a pair of those amazing shoes, but believe me, you will have that all your life. It's an investment in time that will go from generation to generation.
If someone saved up for one special piece from Chanel, what should they choose?
It would be a bag, of course. You can always wear a bag, you can pass it down to your children, or give it to a friend. Shoes and hats are great, but if you want to spend money once for something you will keep your whole life, invest in a bag.
So for you, investing in Chanel is also giving something to future generations of your family?
Yes, absolutely. I love that idea.
You're feminine but with a masculine touch; how do you style yourself? Is it spontaneous?
No, I think about it. You need to plan a little bit, especially when you're packing. But I always have basic wardrobe pieces: a few pairs of jeans, some silk shirts, turtlenecks in winter, things that work with everything. You always need a few items that you always wear, to pair with things like the sequin jacket I was wearing yesterday, which is actually supposed to be a dress. At the moment I love sequin, I love gold, I love festive clothing! But of course, I don't want to look like a Christmas tree, so I add masculine and androgynous details which always bring things down, and make things looks easier.
How did you start out in fashion?
I'll try to make the story short! In my childhood I was always a dreamer. I would always make up stories in my head, my mum says that I was very silent, often sitting in corners silently. I just remember that I had lots of fun because I always made up stories which started with me deciding what the surrounding would look like, what I would wear, what others would wear.. I think it's a visual thing, I was always obsessed with images. I had so many jobs during school because I wanted to be able to buy whatever I wanted without having to ask my parents, and would always invest in clothes. I always wanted to work in clothes but I didn't know where or what or how. Now I do many things. I'm not a routine person, I often find new things that interest me, which can be difficult because you have to let other things go, because nobody can do everything. Now I realise that I enjoy interviewing amazing people that I meet through my life. I try to ask the questions that young people want to hear from, which I think is very important.
What was your favourite look from yesterday's show?
I was thinking about that at breakfast this morning (laughter). I think the navy jumpers from the first looks. The accordion bags! I loved the 80s sequin coat - I loved that there were so many 80s and 90s references and also romanticism. Basically, I just want to own everything and only wear that!
Which season do you prefer seeing : Spring/Summer or Fall/Winter?
I like the winter shows, maybe because I'm German, I love gothic things in a romantic way. After darkness always comes light! For me, spring/summer is easier I think, and also more affordable but fall/winter is more intense.
Which artists inspire you the most?
I always try to visit the churches when I am in a new place. I'm not religious, but I love churches. As for artists, I love Turner, Caspar David Friedrich, who I know Karl Lagerfeld also loves. I wish I could buy them... (laughter)
What music do you listen to?
I'm quite backward with music, I love music that's happening in the moment but my true love in music is rock'n'roll, like the Rolling Stones. If I could choose one genre it would be that. I love Keith Richard's "Salt of the Earth", I love "Under My Thumb", "Angie"... there are so many! I love the ballads. I don't even go to the concerts now because I love the image of when they were young.